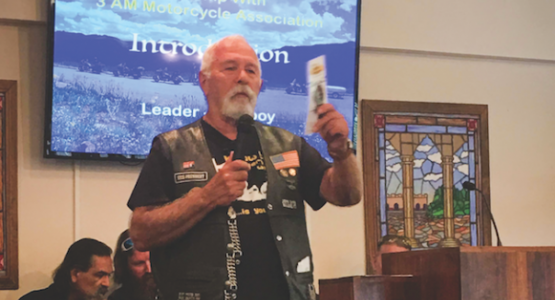 Toll Gate Church Hosts Inaugural Biker Sabbath
December 06, 2018 ∙ by rbacchus ∙ in Mountain View Conference
Story by Valerie Morikone
Mountain View Conference's Toll Gate church in Pennsboro, W.Va., recently hosted its inaugural Biker Sabbath, after connecting with Pastor Bill and Audrey Hunt, leaders of the Three Angels' Messengers (3AM) Motorcycle Association, during campmeeting.
For the last several years, church members have cultivated relationships with several individuals from the local motorcycle scene. Biker Sabbath gives them an opportunity to invite their friends to biker-focused Sabbath services, a delicious meal and an afternoon ride in the beautiful West Virginia hills. This year 3AM bikers came from as far away as California and Texas to participate.
Bill says, "The devil didn't want this to happen." He explained that two motorcycles broke down on the way to church that Sabbath morning. In spite of this, the bikers arrived just a few minutes late. Members share that Bill preached a powerful sermon about Jesus, bikers gave personal testimonies and Audrey and Mountain View Conference teacher Stacy Blanzy, who traveled from Elkins, W.Va., led in music. One local attendee shared that he had been thinking all week about the need to forgive, and the message was just what he needed to hear.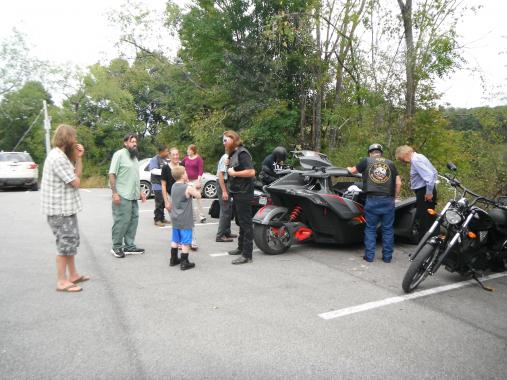 Earlier in the year, 3AM interacted with and shared the good news of Revelation 14:6–12 with hundreds of other bikers at the Sturgis national biker rally. One church member stated that he was impressed by the reported courageous and direct witnessing style.
"I am so pleased to see each person in this church taking responsibility to reach their community," shares Daniel Morikone, Toll Gate pastor. "Their loving efforts are making a real difference in furthering God's kingdom."
An aging church, Toll Gate is committed to renewal. They are striving to become, as Paul says in 1 Corinthians 9:19–22, "all things to all people so that by all possible means [they] might save some." Fortyfour attendees, including 15 non-members, attended Biker Sabbath. Guests and members said, "We've got to do this again next year!" One guest committed to bring more of his biker friends next time.
Caption: Church and community members visit and learn about each other's motorcycles on Sabbath afternoon.