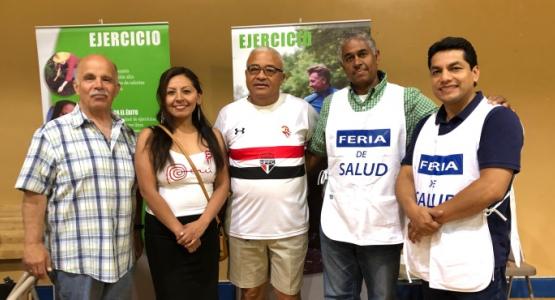 Harrison Spanish Members Volunteer at 'Life for Lives'
September 20, 2018 ∙ by Web Administrator ∙ in New Jersey Conference
Story by Mario Thorp
New Jersey Conference's Harrison Spanish church recently carried out the "Life for Lives" project at the Harrison Community Center.
Fifty-two volunteers taught and motivated 90 participants to make use of the eight natural remedies: sun, water, exercise, clean air, temperance, nutrition, rest and trust in God. Health professionals from the church performed glucose testing, blood pressure measurements and body fat index. The New Jersey Blood Services also collected blood donations. Those who accepted the challenge to study 10 lessons from the "Faith of Jesus" Voice of Prophecy series received a free Bible.
The mayor of Harrison, James A. Fife, and city council officials Jesus Huaranga, Larry Bennet and Ellen Mendoza attended the fair and congratulated Pastor Pablo Cisneros and the Harrison church members for providing this free service to the community.
"We can affirm that we have the support of City Hall for upcoming events that will be held by the church for the benefit of the Harrison community," says Cisneros.