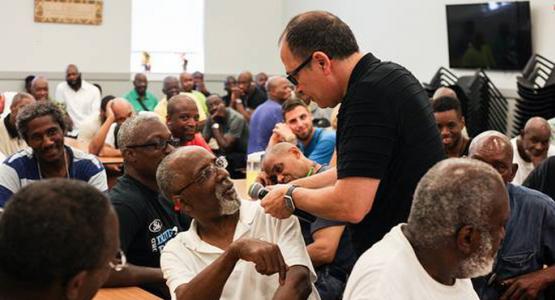 WGTS 91.9 Throws Block Party for the Homeless
July 31, 2017 ∙ by vmbernard ∙ in Washington Adventist University
Story by Jerry Woods
WGTS 91.9's team recently spent a Saturday in downtown Washington D.C. throwing a block party for the homeless men living in and near the Central Union Mission.  
The party included outdoor games, prayer stations and main stage entertainment. The station brought in Christian comedian Nazareth for a private performance for the men.  Station staff and volunteers played board games, basketball and corn hole with the guys. The WGTS 91.9 team also served lunch and dinner to the men at the mission. By the end of the day the station served over 120 men at the mission. 
"Working at the mission was a very humbling experiencing meeting people from all sorts of backgrounds. I feel like anytime you do work like this, it breaks down barriers. It helped me realize that these people aren't that different from me and it expands my horizons to do more of this kind of service," said Jelani Jackson with the WGTS 91.9 spiritual care team.
Minster Deborah Chambers from the Central Union Mission was excited about the day, "Wow!!!!! What can I say - last Saturday was an amazing event. Thank you just does not seem to be enough. Our men and staff thoroughly enjoyed the day and we were so blessed. May many know Him and grow closer to Him because of your labor of love."