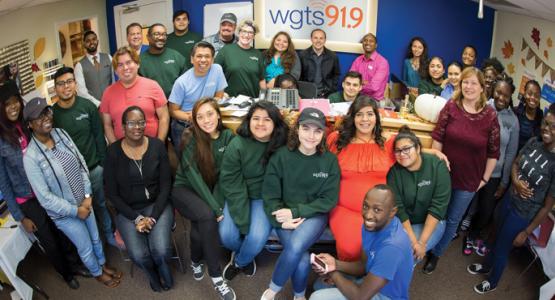 WGTS 91.9 Celebrates 60 Years of Service
November 02, 2017 ∙ by vmbernard ∙ in Washington Adventist University, This Month's Issue
Story by WGTS Staff
On May 8, 1957, in the basement of the men's dormitory on the campus of then Washington Missionary College, WGTS 91.9 started broadcasting on a 10-watt transmitter, covering a scant square mile in Takoma Park, Md.
The call letters—WGTS—echoed the college's motto "Gateway to Service." 
"Washington Adventist University students still work at WGTS 91.9, just as they did in 1957 when it first went on the air," says Kevin Krueger, current general manager. "The mentoring, training and education of college students remains a strong part of our mission."
At first the station broadcasted for several hours a day, and grew, thanks to generous donors and the time and talent of managers Joe Spicer, Don Martin and Ed Henkel. Along the way, the station moved from that small basement room to the studios it has today, and has increased power and extended its reach.
Don Wheeler, who became general manager in 1980, said, "We pride ourselves on our format, which we call programming for the total person. Our programs deal with the mental, physical and spiritual aspects of life. And we are here to reach souls for Christ."
John Konrad, who started as a student overnight board operator and became general manager in August 1996, changed the station to an inspirational Christian music format. Following Konrad's death in 2013, Doug Walker served as interim manager.
Kevin Krueger came from KGTS 91.3 to manage WGTS 91.9 in the fall of 2013 and is currently leading the team. 
The station now broadcasts to 550,000 listeners each week and reaches out to listeners through special events, such as concerts and Hands and Heart initiatives, including collecting school supplies and holiday toys for children, sponsoring water filters and ministering to the residents of Central Union Mission.
Through the decades, the common thread of serving Washington, D.C., and sharing Christ still remain strong today, says Krueger.