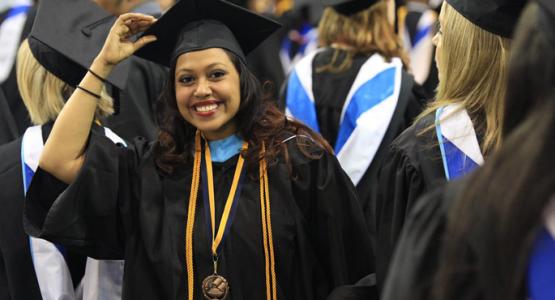 Washington Adventist University to Release its Quinquennial Report to Constituents on May 20, 2016
May 18, 2016 ∙ by vmbernard ∙ in Columbia Union News, Washington Adventist University, Education
Story by Washington Adventist University Staff
Washington Adventist University (WAU) will release its quinquennial report on the state of the university to its Board of Trustees, alumni, donors, faculty, staff, students and other constituents at a meeting May 20, 2016. The Constituency Meeting is open to the public, and it will start at 9:30 a.m. in the Atrium of Sligo Seventh-day Adventist Church, located at 7700 Carroll Avenue, Takoma Park, Maryland. For those interested in attending, the meeting agenda and contents of the delegate packet can be viewed online at https://www.wau.edu/about-us/constituency. Registration begins at 8:30 a.m.
The "State of the University: Growing with Excellence" report is a 66-page publication that will provide an overview of the university's current status, its achievements since 2011, along with a variety of charts, graphs, photos, and interesting facts.
Washington Adventist University is sponsored and governed by the Columbia Union Conference of the Seventh-day Adventist Church. It is an integral part of the Adventist system of higher education, and it serves approximately 1,100 students of all faiths, providing both traditional and evening degree programs.
Highlights of the report include key performance indicators that track the university's progress toward achieving excellence in the areas of quality, people, finance, growth, service and community. Core values that guide the university's growth, advantages of a Washington Adventist University education, and the university's honors and achievements are included in the report.
In addition, notable alumni are highlighted. They include Celeste Ryan Blyden ('92) who is the Columbia Union Conference's first female vice president in its 109-year history, and Marcel Wright ('98) who is associate vice president for behavioral health and wellness at Adventist Healthcare. Alumni of the Year awardees in recent years are also included:  2016, Linda Singh, Adjutant General of Maryland; 2015, Rik Swartzwelder, writer/director/actor and producer of a film that was released last year on Valentine's Day, Old Fashioned; 2014, Farid Srour, a respected businessman and philanthropist; and 2013, Charles McMillan, director of the Los Alamos National Laboratory.
With more than $16 million in campus improvements during the five-year period, the report includes such projects as the $6.3 million Leroy and Lois Peters Music Center that was completed in 2011; the $1.2 million Dining Hall renovation completed in 2012; the $1.1 million Student Activity Center completed in 2013; and the $1.8 million artificial turf ball field with new lights, scoreboard and bleachers in 2014.
The report also details the new Gail S. and Bruce E. Boyer Health Professions and Wellness Center -- which will break ground on May 20 at 12:45 p.m. near the site of the current Health Professions and Science Building. The $9.7 million addition/renovation project is being funded by the Boyers and other donors, along with a $3.2 million matching grant from the Maryland Governor's Office. The new center, which is scheduled to be completed in the fall of 2017, will include eight classrooms; two fitness centers; a multi-purpose room; five labs; four group study rooms; four study nooks and three informal study areas; two conference rooms; a student lounge; a faculty lounge; two work rooms; two reception areas and 23 offices.