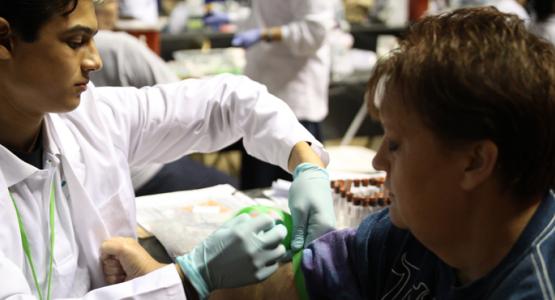 Voluntarios de una mega clínica brindan salud, ayuda y esperanza a 1,700 personas
August 03, 2016 ∙ by vmbernard ∙ in Mountain View Conference, Noticias, This Month's Issue
Historia de Valerie Morikone
Voluntarios de diferentes partes de los Estados Unidos, y de tan lejos como las islas Bermudas, Colombia, Méjico y Polonia recibieron y sirvieron a una multitud de personas ansiosas que acudieron a la clínica móvil de salud llamada Your Best Pathway to Health (Su Mejor Camino a la Salud, en español) en el Centro de Convenciones del Condado Beckley-Raleigh en Beckley, West Virginia. Fue la sexta en los últimos dos años, pero la primera en una zona rural.
Durante dos días y medio, 1,722 personas recibieron 6.5 millones de dólares en servicios gratuitos que incluyeron procedimientos dentales, exámenes oculares y servicios médicos cardiológicos, radiológicos, pediátricos, pediátricos, exámenes de VIH y procedimientos quirúrgicos menores. También se le ofreció a los pacientes consejería sobre cómo adoptar un estilo de vida saludable, masajes, cortes de pelo y peinado, literatura espiritual, comida vegana y la oportunidad de visitar el centro de distribución de ropa y orar con un capellán.
Pathway To Health Beckley Review Video from Your Best Pathway to Health on Vimeo.