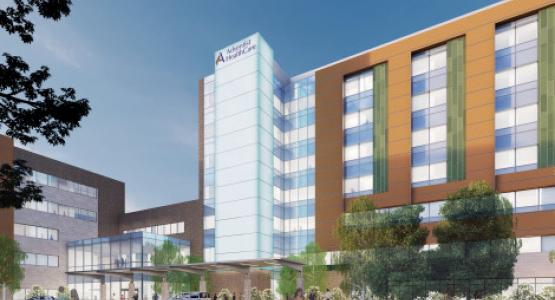 Maryland Health Care Commission Approves New Washington Adventist Hospital
January 13, 2016 ∙ by vmbernard ∙ in
Maryland Health Care Commission Approves New Washington Adventist Hospital
Story by Lydia Parris
The Maryland Health Care Commission has granted formal approval for Adventist HealthCare Washington Adventist Hospital to develop a replacement hospital in the White Oak section of Montgomery County. The project is part of the hospital's longstanding plan to expand access to care in the region and includes keeping healthcare services on its current Takoma Park campus.
The new, 170-bed acute-care hospital and medical campus is on 48 acres at Plum Orchard Drive and Cherry Hill Road, along the border of Montgomery County and Prince George's County. It is near the U.S. Food and Drug Administration (FDA) headquarters, which partners with the hospital on medical and scientific issues. Construction on the $331 million project will begin in early 2016 with opening scheduled for early 2019.
Frances Phillips, a member of the Commission who led the review of the hospital's Certificate of Need (CON) application, recommended approval of the plan in November. The Commission voted in favor of the CON at its Dec. 17 meeting in Baltimore.
"I conclude that, from a broad healthcare delivery system perspective, [Washington Adventist] plays a very important role in providing services to the residents of southeastern Montgomery County and western and northern portions of Prince George's County," Commissioner Phillips wrote in her recommendation. "Its current operation in an outdated physical plant … makes its future survival and ability to perform well dependent on its relocation and replacement. I find that the … healthcare delivery system and the population in [Washington Adventist's] service area will benefit from having a modern hospital that can thrive and better serve the region."
The new facility will be located off major connecting roads with enhanced public transportation options, dramatically improving services for the community. The White Oak location will feature:
Large, all-private patient rooms
Patient Care areas sized, organized and located to improve clinical efficiency
Ample space on campus for outpatient services & physician offices
On-campus parking for staff, physicians, patients and visitors
"This project means the region will have a thriving new hospital in White Oak, while also having access to key population health services in Takoma Park," said Erik Wangsness, hospital president. "I want to thank the Commission for approving our plan. I also want to thank the hospital employees, physicians and numerous community supporters who have worked with us to expand access to care."
The current Takoma Park campus will remain home to the 40-bed Behavioral Health unit, Adventist HealthCare Physical Health & Rehabilitation Takoma Park services and the Women's Center clinic, which provides prenatal care and other services for low-income women. Other services in Takoma Park will include:
An urgent care center
A Federally Qualified Health Center operated by Community Clinic, Inc.
Physician offices
Imaging, lab and other ancillary services
Space leased to Washington Adventist University
"Since first opening its doors in 1907, Washington Adventist Hospital has provided high-quality care and a focus on prevention and wellness to the region," said Terry Forde, President and CEO of Adventist HealthCare, headquartered in Gaithersburg, MD. "This project addresses the need for new facilities in an accessible location, continued healthcare services for the community around the existing campus, and reflects the changing dynamics of how care is provided. We are honored that we will be able to continue serving the community as we have for more than 100 years."
This article was originally published on December 17, 2015