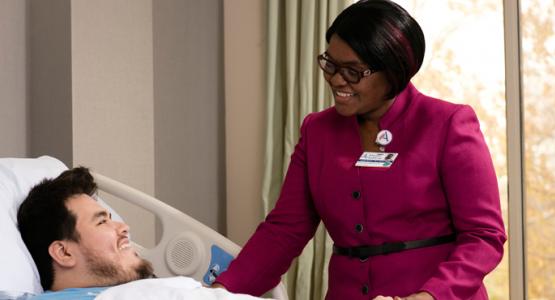 A Chaplain's Journey to the Adventist Faith
July 28, 2016 ∙ by vmbernard ∙ in Adventist HealthCare, Health & Lifestyle, This Month's Issue
Story by Adventist HealthCare Staff
When Judith Mufuh sat down to watch a video about the Seventh-day Adventist Church for her new job, she had no idea how profoundly it would impact her life. She had recently started working as a chaplain at Adventist HealthCare Shady Grove Medical Center in Rockville, Md., and her manager, Dr. Shelvan Arunan, gave her the video to learn more about the faith-based roots of the hospital.
"When the video ended, my husband and I sat in silence and awe of how inspiring and moving it was," Mufuh says. "Having studied theology, I was familiar with the history of many denominations, but I was very intrigued by the uniqueness of the Adventist faith."
Arunan, executive director of Mission Integration and Spiritual Care at Adventist HealthCare,  gives every employee who enters his department the video in order to help them better understand the mission of Adventists.
"After they watch the video, we meet and talk because I want them to comprehend who Adventists are and what our mission is truly about," he explains.   
Mufuh, who was raised Lutheran, was also curious because of her goddaughter's positive experience with the Adventist faith.
"She had recently married an Adventist man and told me how warm and welcoming the church had been to her," she says. "I trust my goddaughter very much, so after watching the video and thinking about her experience, I was curious and wanted to know more."
Judith began asking questions. So many, in fact, that Arunan provided her with more videos and books, and they began having regular bible studies.
Eventually, Mufuh met Arunan's wife, Rajee, who invited her to visit Adventist churches in the community.
"When I met Rajee, she was beyond goodness, and so friendly and nonjudgmental," Mufuh says. 
Mufuh and her family attended services at various churches in the area before connecting with Hyattsville church in Prince George's County, Maryland.
"The moment I walked into the church, I remember thinking that it felt like home," she says. "Later on, when I learned the mission of the church is 'A Place that Feels Like Home,' I knew it was going to be part of my path."
It was important to Judith that her husband and four sons had input, too. When her children expressed an enthusiasm to return to the church, they agreed as a family that it was time to join.
"It has been the most blessed, wonderful journey I have ever had," Mufuh says. "It's a sense of peace and calm that I had not experienced for a long time, and it's beautiful to have people who surround you and understand you." She and her husband, Christopher, were baptized into the Seventh-day Adventist faith on December 26, 2015.
Judith says her experience has enabled her to better connect with her patients on a spiritual level.
"I want them to leave the hospital feeling that they are not alone and that there is something special and unique about Adventist HealthCare and its employees," Mufuh says. "The ability to hold someone's hand without judgment and journey with them is very powerful."
Arunan says that he was simply doing his job and, because Mufuh was curious, he helped her study and answered her questions. "We do the best we can, but God does the rest," he says.  
For Mufuh, his guidance was invaluable in her journey.
"The most amazing thing was just coming for a job and not knowing how it would change my life. Dr. Arunan didn't push me -- he just let me experience the goodness of God and, when that takes place, it transforms," she reflects. "Sometimes all it takes is one person to inspire change."