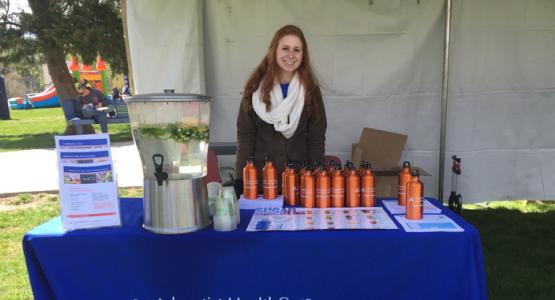 Adventist HealthCare Washington Adventist Hospital Brings Wellness Activities to Local Families
April 14, 2016 ∙ by vmbernard ∙ in Adventist HealthCare, Health & Lifestyle
Story by Elizabeth Klinck
In the tradition of bringing health and wellness to the community, Adventist HealthCare Washington Adventist Hospital in Takoma Park, Md., provided health screenings and nutrition activities at Washington Adventist University's Family Fun Festival held April 10 on the university's campus, which is right next door to the hospital.
 
Washington Adventist University holds this annual event each spring to bring safety, education and wellness to the community. The day features live music sponsored by WGTS 91.9FM, food from local restaurants and children's entertainment. Sharing a commitment to keeping the community well and healthy to prevent illness, Washington Adventist Hospital has long supported Washington Adventist University's Family Fun Festival.
 
Erik Wangsness, president of Washington Adventist Hospital, joined University officials to welcome the festival guests and thank them for coming out to enjoy a day of wellness and fun.
 
As an event sponsor, Washington Adventist Hospital provided health experts to offer two health screenings. More than 200 attendees participated in Adventist HealthCare's activities, including receiving a body composition and body mass index (BMI) screening and participated in a hand-washing activity using a UV light to show places they missed when washing their hands.
 
Keeping with the Adventist focus on healthy eating, Adventist HealthCare Executive Chef Randall Smith offered a cooking demonstration on the festival's main stage, where he cooked three bean and brown rice salad and provided recipe cards.
 
Attendees also enjoyed fruit-infused water in Adventist HealthCare water bottles. Bonnie Alexander, RD, a dietician and the outpatient diabetes educator at Washington Adventist Hospital, explained how guests can make their own fruit-infused water and the health benefits of drinking water instead of sugary beverages.