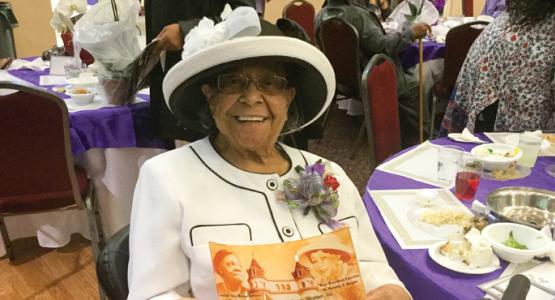 99-year-old Hillcrest Church "Prayer Warrior" Receives Award
May 12, 2016 ∙ by vmbernard ∙ in Allegheny West Conference
Story by Allegheny West Conference Staff
Mamie H. Clemons, the "prayer warrior" of the Hillcrest church in Pittsburgh, recently received the National Council of Negro Women (NCNW) Legacy Award from the Rankin/Mon Valley, Pittsburgh, Pa., area NCNW. The organization held a luncheon this spring at the Hosanna House in Pittsburgh.
Clemons was one of five women who received the Legacy Award. Legacy awards are presented to women who show the spirit of civil rights leaders Mary McLeod Bethune and Dorothy I. Height. Bethune was the founder of the NCNW, and Height was the fourth elected national president of the NCNW. She served until 1998, when she became chair and president emerita.
Clemons says she was grateful to have been chosen for such a prestigious award. Her legacy and leadership spans a 24-year career as an educator in the Pittsburgh Public Schools. She was a teacher, director of curriculum and principal. Her students became distinguished among their peers as members of the Junior Courtiers and Junior Misses. Former students say she supported and loved them.
Her great passion, however, has been as an intercessory prayer warrior. Clemons says that her parents taught her to pray. Her prayer ministry includes daily prayer for more than 1,000 friends. Because of her leadership in prayer, she is training a cohort of mature students in the power of prayer.
Candace King, the mistress of ceremony, read the proclamation given to Mamie H. Clemons from Pennsylvania governor Tom Wolfe, and says she was astounded when she found out that Clemons is 99.
Clemons received a standing ovation from the audience when given the award, but humbly gave God the honor for all her accomplishments. She added, "I am a prayer warrior and I will give you the seven steps to prayer." Immediately, the banquet room had become reverent. Clemons then reiterated the steps for assurance and said, "If you are in need of prayer, call me."