Six Columbia Union Members Honored For Their Ministry
November 26, 2013 ∙ by cmckenzie ∙ in Columbia Union News
Story by Taashi Rowe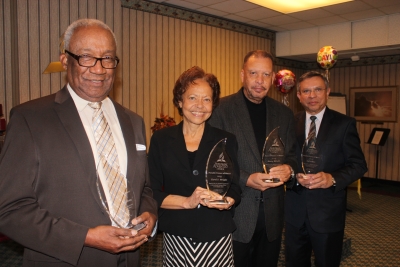 Samuel DeShay, Carol Wright, Henry Wright and Raj Attiken hold their Notable Persons of Honor awards.
Last Thursday, for the second year in a row, the officers of the Columbia Union Conference recognized those who have made a significant contribution to ministry in the union. Six were honored with a special luncheon and the Notable Person of Honor Award.
 
The honorees included Raj Attiken, retiring president of the Ohio Conference. He ministered in Ohio for 40 years. Over the past 10 years, Attiken and his team have emphasized a Christ-focused orientation to theology, ministry and mission. His team bills the conference as "unapologetically Christocentric."
 
He is also known for creating a culture of love, trust and freedom in dealing with pastors, churches and schools. "Raj is the best example of a servant leader that I have ever known. He is always gracious and kind, and has a wonderful sense of humor," said Rob Vandeman, the union's executive secretary and master of ceremonies. 
 
When he accepted the award, Attiken called "leadership of God's people a tremendous honor that I have been blessed by."
 
The next honoree Samuel DeShay, PhD, MD, is probably best known for serving as a General Conference missionary in East Africa. DeShay, who was credited with eradicating leprosy in Nigeria, said, "In Africa there was one doctor for every 22,000 people, so I went where there was a great need."
 
Today at 80 years old, he says, "Even though I'm old, I will continue to go where the Lord calls me. … The Lord still has work for us to do still in East Africa."
 
Calling the next honoree, Carol Wright, a modern-day Proverbs 31 woman, Vandeman noted that the Columbia Union undertreasurer, has supported her husband, Henry, in ministry; reared three sons; and passed her CPA exam at the age of 50.
 
Quoting from Proverbs 31, Vandeman noted that Wright, "is clothed with strength, dignity and laughs without fear of the future. When she speaks her words are wise and she gives instructions with kindness. Reward her for all she has done. Let her deeds publicly declare her praise!"
 
Wright's husband, Henry, was also honored for his work as a church planter, adjunct professor and pastor of Potomac Conference's Community Praise Center (CPC) in Alexandria, Va. He has ministered for nearly 50 years, the past 20 of which has been spent growing CPC from a membership of 37 to , today.
 
After Vandeman and the officers thanked Pastor Wright for his ministry, Wright responded quietly, "It is only because of God and the gift of Carol that I stand before you. Today the honor goes not to Henry but to a very special female that the Lord assigned to a heard-headed country boy."
 
Sedley Johnson, pastor of Chesapeake Conference's Dundalk and Northeast churches in Baltimore, was also recognized. Passionate about prayer ministries, evangelism, and church growth, he began a church planting initiative in 2008 that is now the Northeast church with 81 members. He has spent almost 30 years in ministry. He was not present to receive his award.
 
Judy Olson, a registered nurse, who along with her husband Wesley Olson, MD, helped to plant Mountain View Conference's Summersville (W.Va.) church. They started a daycare center in the church basement and today the Friends-R-Fun Child Development and Family Learning Center has seen several additions and has grown from two or three children to caring for more than 200 children plus adults. It now includes an adult learning center that helps young adults get their GEDs. In 2002, a $1.3 million health and education complex was built that houses an adult learning center, a medical clinic, a full junior high school and is used by the local Seventh-day Adventist K-8 school. Olson was not present to receive her award.