Huntingdon Valley Students Exceed Goal to Help Children
December 16, 2013 ∙ by cmckenzie ∙ in Pennsylvania Conference, Perspectives
Story by Tamyra Horst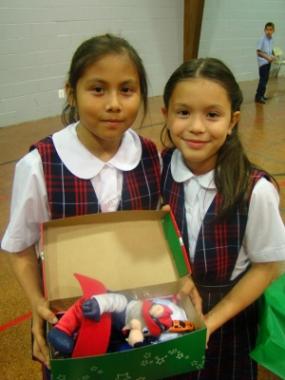 Despite the fact that they didn't quite reach their goal of packing 300 boxes for Operation Christmas Child last year (they packed 286), the students of Huntingdon Valley Christian Academy (HVCA) set an even higher goal this year. The 145 students of the Pennsylvania Conference school located in Huntingdon Valley didn't want a small goal. They decided to pack 500 boxes for 2013.
For the past 10 years, HVCA students have packed a shoebox full of items that a child would enjoy or need. Then Samaritan Purse collects the boxes and sends them to children around the world.
           
While the premise is simple, the task is much bigger. After several years of going to a packing center and helping to pack boxes, HVCA students and teachers decided to create their own packing center. They collected items, held fundraisers, purchased more items and planned for the big day.
           
With Christmas music playing in the background, older students partnered with younger students. They also took the time to create a personal card, often including a hand-written a note about Jesus' love, drawings and their own names. Once completed, they stopped at the prayer station and prayed for the child who would receive that box.
           
When the dust had settled and every item was packed, HVCA students exceeded their high goal and packed 612 gifts of love to share with children they'll never meet, but still care about.
 
"It's more than just a gift," said Rick Bianco, HVCA principal, who is
committed to helping students learn a worldview of service and care. "It's a way of sharing Jesus."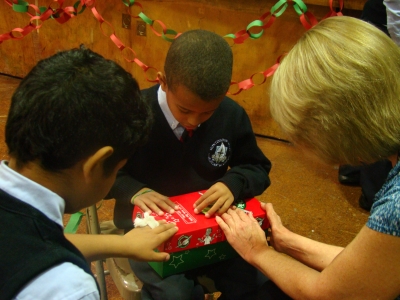 A teacher helps two HVCA students wrap their shoebox of goodies.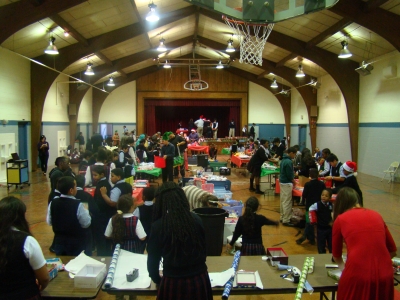 HVCA staff turned the school's gym into their own packing center.