Washington Adventist Hospital Performs Montgomery County's First Single-Site Robotic Surgery
September 12, 2012 ∙ by cwhittingham ∙ in Potomac Conference, Health & Lifestyle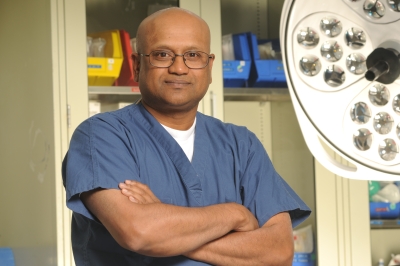 Story by Danielle Lewald​
The Washington Adventist Hospital in Takoma Park, Md., has become the first hospital in Montgomery County to perform a da Vinci robotic single-site operation. This comes less than a year after the U.S. Food and Drug Administration approved single-site instruments for the da Vinci robotic surgical system last December.
Innovative single-site technology allowed Washington Adventist Hospital's surgical team to remove a patient's gallbladder, called a cholecystectomy, through a single, one-inch incision made through the belly button.  The surgery was performed on Friday, September 7.   
"By making only one incision, patients experience virtually no scarring, minimal pain and a quick recovery," said Bobby David, MD, general surgeon at Washington Adventist Hospital, who performed the procedure. "We are pleased to be able to offer this unique technology that will serve to revolutionize surgery and enhance the care we provide to our patients."
Using state-of-the-art robotic and computer technologies, the da Vinci surgical system has allowed surgeons to perform complex operations with greater precision. The robot translates the surgeon's hand, wrist and finger movements into precise, real-time movements of surgical instruments. Specially trained surgeons control the robot from a console, using high definition cameras and manipulating the high-performance, miniature instruments to perform the operation.
The new da Vinci single-site system provides surgeons with an even greater control over complex operations, like a cholecystectomy, which is currently the only operation performed with single-site instruments.  By using this technology, surgeons have an increased range of motion, greater dexterity and improved access to the surgical site.  All of this translates into an easier recovery for patients with less pain due to fewer and smaller incisions.
"The single-site technology allows us to offer the latest surgical treatment options to our community and it's just one more way we continue our commitment to providing the highest quality care possible for our patients," said Joyce Newmyer, president of Washington Adventist Hospital.
The da Vinci robotic surgical system is used by expert surgeons at Washington Adventist and Shady Grove Adventist Hospitals to treat a variety of medical conditions including complex urology, gynecology and general surgical procedures. The da Vinci surgical system offers a minimally invasive approach as an alternative to traditional open surgery and laparoscopic surgery.
Washington Adventist Hospital is one of five hospitals operated by the Rockville, Md.-based Adventist HealthCare, one of two healthcare networks in the Columbia Union Conference territory.