Potomac Conference School Celebrates 100 Years of Excellence
October 19, 2011 ∙ by cmckenzie ∙ in Potomac Conference, Education
Story by Eryn Montgomery Savoy; Photos by Keith Walden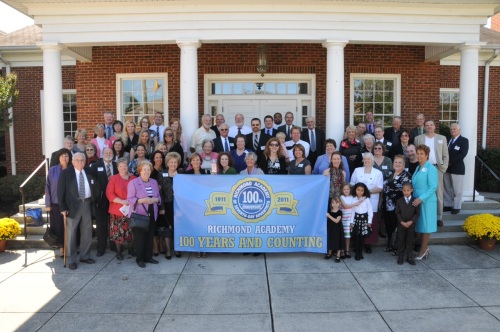 Potomac Conference's Richmond Academy of Seventh-day Adventists (RA) in Richmond, Va., celebrated 100 years of excellence in Christian education on October 14-16. The weekend festivities started with Dwight C. Jones, Richmond mayor, and Nancy Melashenko, Potomac Conference associate director for education, dedicating RA's new brick commemorative walkway.
Centennial attendees enjoyed special programs on Friday evening. Sabbath was filled with music, memories and inspirational speeches from RA alumni, students and staff. There was a banquet at Lewis Ginter Botanical Garden on Saturday evening. Sunday morning, many participants attended a Walk/Run/Bike-a-thon and picnic to raise additional funds for school improvements.
Throughout the weekend, it was evident that many students who attended RA have gone on to lead lives of Christian service in many different careers. The school's mission statement, "Loving, Learning, Living in Christ" could be seen in action in the lives of so many of its alumni, students and staff.
One such alumna is Katherine (Taylor) Thompson ('82) who was one of five siblings who attended the school. "My parents sacrificed greatly to send all five of us to RA as they had Christian education as their number one priority," Thompson shares. "Going to this school gave me the opportunity to do anything I wanted to do—I gained a strong background in art, music and academics."
Thompson continues to support the school as a substitute teacher, a board member and parent of a RA sixth-grader.
In the Beginning
In 1911, W.J. Stone, an elder at the Morris Street church in Richmond, proposed that the church start a school. This met with approval and the church school opened its doors with E.F. Dresser as the first teacher.
RA moved into the basement of the newly built church at 3901 Patterson Avenue in 1940. By 1943, RA had achieved senior academy status and tuition was $5 a month. Alumnus David Hegamyer ('49-'58) recalled how his family sacrificed to send him and his brothers to the Academy. Families would carpool to and from school. The children were dropped off at the school at 6:30 a.m. and would wait in the cold until someone arrived to let them in.
Following Christmas vacation in 1950, the school moved into its new building at 3809 Patterson Avenue. The facility was expanded in the early 1970s. Church members, friends and parents of RA students provided much of the labor. Significant funding came from the school's Florida Citrus Fruit sales, initiated by RA parent, Milton Reynolds.
The school and its constituents praise God for making the last 100 years of RA's history possible and pray that He will continue to help Richmond Academy be a light of Christian love in its community.