Potomac's Spanish-Speaking Retreat Draws 1,000 Women
November 03, 2011 ∙ by cmckenzie ∙ in Potomac Conference
Story by Jacqueline Sanchez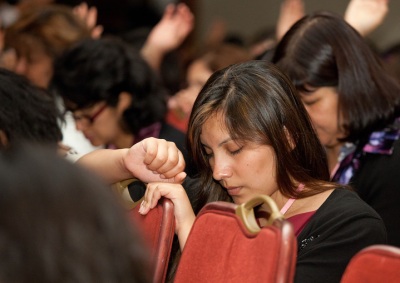 The 13th annual Women's Ministries Retreat of the Potomac Conference's Hispanic Ministries recently held October 21-23 in Arlington, Va., drew more than 1,000 women representing more than 60 Hispanic churches.
Women attended from the Allegheny East, Chesapeake, Allegheny West and Mountain View conferences, and one special group even traveled all the way from Milan, Italy, to take part of this retreat. English-speakers also attended and for them, the sermons were translated into translated into English. Carla Baker, Women's Ministries director of the North American Division, was also present.
Keynote speaker Elizabeth Talbot, associate speaker for the Voice of Prophecy ministry, spoke on the event's theme "Surprised by Love." Her messages captivated the audience leading them to trust in Christ and His permanent love for his daughters. Each presentation was characterized by an in-depth study of the Bible that led the audience to know even more about this sacred book. Pastor Talbot expressed her appreciation for having the opportunity to share a special weekend with these women. She said her greatest joy was sharing the great news of salvation through Christ to the more than 200 attendees who were not members of the Seventh-day Adventist Church.
There was also a special program for the more than 120 teen attendees and they enjoyed the messages that Zoraida Velez Delgado shared. She shared the worth that every teen has before Jesus and how to break free from the lies of Satan.
There were also breakout seminars on health, diet, beauty and how to live a life full in Christ. Additionally, there were more than nine tables laid out for a Fair of Resources where various organizations were invited to share and distribute information from their organization. A few included: Inova Health System & Fairfax County, Adventist Healthcare, Fairfax County WIC Program, Women Working Organization, Prison Ministries, Senior Security Insurance Partners, Total Health Resources, and Loudoun Community Health Center, Takoma Academy and John Nevins Andrews School.
"We praise God for His indispensable presence in this event through the Divine Spirit and for the hundreds of women that will give their lives to Jesus through baptism in their churches," said Carmen Esposito, Hispanic Women's Ministries director.