Adventists Honor 9/11 Heroes, Remember Victims
September 12, 2011 ∙ by cwhittingham ∙ in Columbia Union News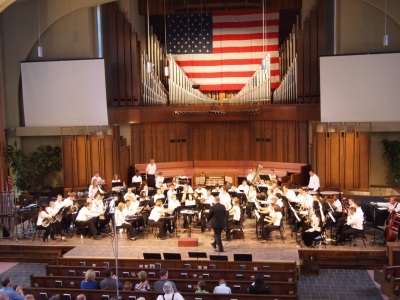 Story by Vicki Swetnam and Taashi Rowe​
On Sunday morning, September 11, 2011, the Spring Valley Academy High School Band from Centerville, Ohio, under the direction of Donald Huff, joined the Kettering Praise Orchestra and Oakwood Brass for a 9/11 anniversary concert at 10 a.m. at the Kettering church in Dayton, Ohio. Those who came early viewed a video presentation of 9/11 survivors who gave their testimonials of courage and faith and set the tone for this Remembrance Concert held on the 10th anniversary of the terrorist attacks in New York, N.Y.; Shanksville, Pa.; and Washington, D.C. The video concluded with these inspiring words: "To remember is to honor, to honor is to value, remembrance gives purpose, remembrance brings gratitude, remembrance strengthens community, remembrance provides perspective, remembrance reignites hope ... God is faithful even in our darkest hour!"
The Remembrance Concert began with "Taps" after which the audience stood as the orchestra played "Proudly We Hail" (a rendition of Francis Scott Key's national anthem). Their performance continued with many patriotic songs some of which included "September" (written by Michael A. Morgensen in memory of those lost on 9/11), "Flight of Valor" (based on the well-known hymn "It Is Well With My Soul"), "America the Beautiful," "Mansions of the Lord" and several patriotic songs.
In closing, David VanDenburgh, DMin, a professor at Kettering College, asked all to respectfully stand and share a moment of commemorative silence. He then gave the closing prayer, which was followed by "Taps" bringing a close to this inspiring tribute!
Washington Adventist Students Remember
Later on that same day in Takoma Park, Md., Washington Adventist University's (WAU) Student Association brought together hundreds of students, faculty members and others in the WAU community at the university's campus church to remember 9/11 in song.
"Today our nation pauses to acknowledge the 10th anniversary of an attack on our country and our freedom … We pause to remember man's inhumanity to man, the lives lost and those who fought bravely," said Charles Tapp, senior pastor of Sligo church. He then read from Psalms 46, in which the psalmist reminds us that "God is our refuge and strength."
A. Jean Warden, vice president for Student Life, reminded attendees that "truth, justice and freedom can never be defeated by tyranny and oppression. 9/11 failed to defeat the American people and I for one am glad. While it was a painful experience, we gained thousands of heroes."
In addition to the musical performances, a local police officer, firefighter and two soldiers were recognized for their service to their communities. 
Visibly touched by the events of the evening, Michael Patterson, a WAU student who arranged a rendition of "My Country 'Tis of Thee" and "The Star Spangled Banner," recalled sitting in his fifth-grade classroom in California during 9/11. He shared his gratefulness for others' selflessness before sitting down with fellow student Jidong Zhong to play this special arrangement.
The evening ended with more music, this time from Committed, an a cappella group from Oakwood University who recently won the Sing-Off, NBC's singing competition.