Adventists From Secular Universities Get Encouraged at ANEW
November 14, 2008 ∙ by kkajiura ∙ in Uncategorized
By Beth Michaels
Photos by Brian Goo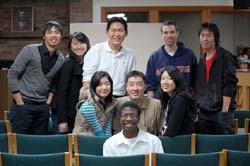 Nearly 60 Seventh-day Adventist students from secular campuses around the Mid-Atlantic region were encouraged and challenged at the second annual ANEW (Addressing the Now in Exercising the Will) retreat. The three-day event, under the theme "What's YOUR Reason?", was held at the Mt. Aetna Retreat Center in Hagerstown, Md. 
Young attendees came with a desire to have their faith strengthened and to be equipped and inspired for campus ministries. They were not only challenged to examine the reasons for what they believe, but also reminded that, as Adventists, they should have nothing to fear in sharing truth. 
The students represented schools around the Columbia Union territory—Delaware, Maryland, New Jersey, Pennsylvania, Virginia—and from as far away as Michigan and New York. Event sponsors were Chesapeake Conference's Washington Spencerville Korean church and Allegheny East Conference's Reaching Hearts International congregation, both in Silver Spring, Md.
Speakers included Clifford Goldstein, theologian and editor of the Adult Sabbath School Quarterly; Justin Kim, pastor from the Michigan Conference and general vice president for the Generation of Youth for Christ (GYC); Andrea Oliver, a lawyer based in New Jersey and co-founder of GYC; and Amy Sheppard, a law student at the University of Virginia and executive secretary for GYC (gycweb.org). 
The two breakout seminars during the event were titled "Survey of Worldviews and Theism" and "Defending Adventism." A subsequent networking session helped to foster campus ministries. Participants examined the needs of students who want to do campus ministries and provided the appropriate resources. During the testimonies session, students shared God's blessings throughout the year on their various campuses. 
"Because of the vast nature of the university, students like me can find it intimidating to stand out and be bold with the Adventist faith," said David Park, ANEW president and Washington Spencerville Korean member. "But it is in this very environment, I believe, that the possibilities for the gospel are much greater and more exciting than anything that we have witnessed before."
Hillary Blair, who attends the University of Delaware, agreed, adding, "ANEW was the best thing that could have happened to me this year. As a freshman at a secular university, I have been overwhelmed with a new environment, new people, and new ideas. ANEW, however, provided me with the confidence I need to defend my beliefs."  
For more information about ANEW, to download sermons from the retreat, and to get updates on other upcoming events, visit anew-web.org.