City Officials Participate in Baltimore Junior Academy Reading Day
October 15, 2007 ∙ by kkajiura ∙ in Education
By George Johnson Jr.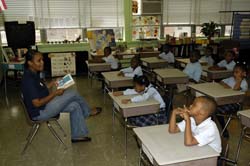 Baltimore Junior Academy (BJA) recently hosted Reading Day, which was a fun way to promote literacy to the students and the ability to use language to read, write, listen, and speak.
Participants of the special day included Stephanie Rawlings-Blake, Baltimore City Council president; Councilwoman Sharon Green Middleton from the 6th District of Baltimore; Angela Jackson, a producer/editor at WBAL Radio 11; Cara Fuller, director of Project HYPE, a youth and family program in Washington, D.C.; Debra Fryson, associate education director for the North American Division (NAD); Gamal Alexander, pastor of the Hadley Memorial church in Washington, D.C.; Helen Artes, a retired nurse; author Irma Johnson and a senior property/casualty claims examiner for Adventist Risk Management; Jessie Ruffin, a retired BJA business manager; LaShawn Williams, BJA alumni president; Lenee D. Harris, professional event planner; Louise S. McCleary, BJA retired educator; Phyllis Washington, NAD Children's Ministries director; Ralph A. McCleary, retired business executive from Bethlehem Steele in Baltimore; Saundra Washington a retiree from the Social Security Administration; attorney Tanya Lane from Venable LLP; Timothy Traylor, human resources director at WJLA TV 7 in Washington, D.C.; Vernell Rogers, a nurse; and Washington Johnson, editor for Message Magazine.
"You want to encourage children to read books and to really get them into the enjoyment of it," said Johnson, who read part of her first book titled I Believe … Poems of Faith for Children. "I was happy for the opportunity to read my book. I did have the kindergarten children, so in order to make it more interactive, I had the children put felts on a felt board. I think they enjoyed it." Johnson also donated a copy of her book to the school library.
Baltimore's ABC affiliate television station even came out and covered the event for their 6 p.m. newscast. The story featured a short interview with BJA principal Dorine Robinson.
Reading Day was sponsored by the BJA National Alumni Association. The event kicked off the academy's 92nd Alumni Weekend themed "Enlightening Our Spiritual Jewels."