AHC President Receives "Fresh Air" Award
May 07, 2007 ∙ by kkajiura ∙ in Adventist HealthCare
By AHC Communication Department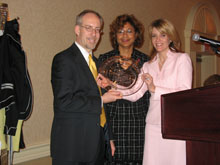 William G. "Bill" Robertson, President and CEO of Adventist HealthCare, Inc., of Rockville, was honored last month by the American Lung Association of Maryland with its Inaugural Presentation of the Breath of Fresh Air Award. 
The award recognizes an individual or organization for their outstanding efforts to embrace the mission of the American Lung Association of Maryland to prevent lung disease and promote lung health. 
"Adventist HealthCare is going all tobacco- free in November and we felt it was fitting that with such a bold move, Bill should be our first recipient," said Terry Weigel, director of Special Projects for the American Lung Association of Maryland. "We wanted to acknowledge his leadership in advancing lung health and in preventing lung disease." 
Adventist HealthCare has been planning for more than a year to go tobacco- free at all its entities, which include more than 7,000 employees. Since then, other hospitals in Montgomery County and Frederick Memorial Hospital have all joined the move toward a healthier environment by aiming to become tobacco- free starting Nov. 15, 2007, this year's Great American Smokeout day. 
Catherine Leggett, the first lady of Montgomery County, and Kathy Fowler, medical reporter for WJLA ABC7, presented the award to Robertson during the association's first Catch Your Breath...Women's Day Out benefit luncheon on April 20. More than 200 people attended the event at the Bethesda Marriott, which featured informative and interactive discussions with guest speakers to increase awareness of lung health issues in Montgomery County. 
"I am honored to be recognized by the American Lung Association of Maryland," Robertson said. "Our missions run tandem in promoting healthy environments and healthy living for people in workplaces and communities throughout the state." 
Robertson added that the Seventh- day Adventist Church, the sponsoring organization of Adventist HealthCare, emphasized healthier living nearly 150 years ago when it took an early stance against tobacco in the 1800s, and started smoking cessation programs as early as the 1960s. 
Proceeds from the event benefited American Lung Association programs, such as Camp Superkids for children.
(Photo - Left to right: William G. "Bill" Robertson, President and CEO of Adventist HealthCare, was presented the American Lung Association of Maryland's Inaugural Breath of Fresh Air Award on April 20 by Catherine Leggett, the first lady of Montgomery County, and Kathy Fowler, medical reporter for WJLA ABC7.)