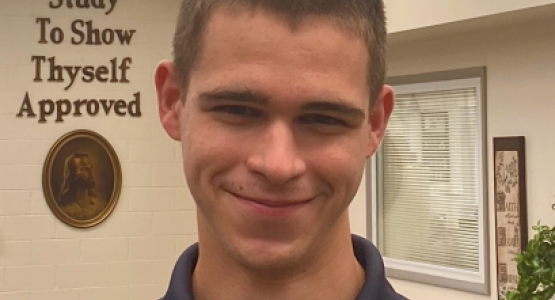 Spring Valley Academy Senior Named 'Commended Student'
February 18, 2021 ∙ by rbacchus ∙ in Ohio Conference, Education
Story by Vicki Swetnam
Darren Wilkins, principal of Ohio Conference's Spring Valley Academy, recently announced that the 2021 National Merit Scholarship Program named senior Benjamin Shull a Commended Student, one of 34,000 throughout the nation, recognized for exceptional academic promise. This year, Commended Students were those who placed among the top 50,000 scorers of more than 1.5 million who entered the scholarship program by taking the 2019 Preliminary SAT/National Merit Scholarship Qualifying Test.
A spokesperson for the National Merit Scholarship Corporation comments, "These students represent a valuable national resource, and recognizing their accomplishments, as well as the key role their schools play in their academic development, is vital to the advancement of educational excellence in the nation."
Wilkins adds, "We hope this recognition will help broaden Ben's educational opportunities and encourage him as he continues in his pursuit of academic success!"
Ben is the son of Sonya and Ted Shull ('86) of Dayton, Ohio.
Read and share articles from the January/February 2021 Visitor: