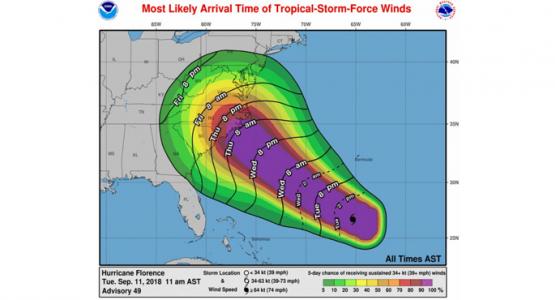 How to Prepare for Hurricane Florence
September 11, 2018 ∙ by vmbernard ∙ in Columbia Union News
Story by V. Michelle Bernard
Adventist Community Services (ACS) Disaster Relief (DR) staff around the conferences in the Columbia Union are preparing for the potential local landfall of Hurricane Florence.
Florence could possibly impact parts of Virginia, Maryland, West Virginia and Ohio. (Visit local sources for up-to-date information on your location.)
While hurricane winds may not hit the Columbia Union, the amount of rainfall prior to the storm system has made the ground very saturated, says Frank Bondurant, Columbia Union vice president for Ministries Development and the acting union coordinator for disaster response. "Even if this ends up being a non-event, it is still going to be devastating in many respects. Many places are already flooding because of the rain situation."
Conference ACS/DR coordinators around the union and along the East Coast are working with the Red Cross and local volunteers. They are ready to respond with flood buckets and personal care supplies.
In preparation for the storm, Bob Mitchell, ACS/DR coordinator for the Potomac Conference, urges members to stock up on necessities. "Now is the time," he said in an email shared with ACS/DR workers and volunteers in the conference. He urged people to have at least three gallons of water per person per day for drinking, cleaning and cooking, and added, "Some professional emergency managers are recommending a minimum stockpile of 2–3 weeks worth of all supplies—water, food, medications, etc. Following other storms, Virginia has seen power outages last for several weeks."
Mitchell emphasized the need to remember personal safety in storms and evacuate when recommended. Don't wait until it is "ordered," and leave early so it is possible to still purchase fuel and food, he says.
John Belliveau, ACS/DR coordinator for the Chesapeake Conference, added that people usually forget to clean their gutters, cut down dead and weak branches before a storm and put yard furniture inside. "We expect a lot of rain. Clogged gutters could cause basement flooding and other damage that is unnecessary. Weak branches can fall on vehicles or other property, including the home. Light objects in the yard can go airborne."
How You Can Help
Mitchell shared the following tips on how Columbia Union members can help in an emergency.
1. Pray for the safety of our members and their community neighbors.
2. Become trained in the ACS/DR ministry. Then volunteer when called upon.
3. Support local and national ACS/DR ministry with your financial offerings.