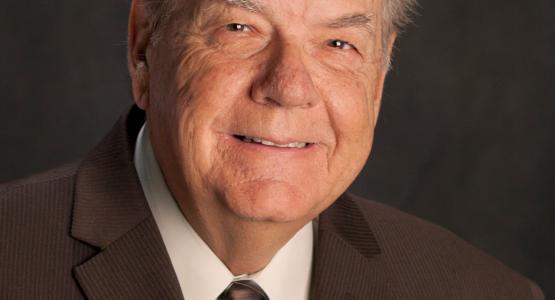 Remembering Elder Ron Halvorsen Sr.
May 20, 2015 ∙ by Anonymous ∙ in Columbia Union News, Ohio Conference
Remembering Elder Ron Halvorsen Sr.
By Heidi Shoemaker
Photo Courtesy Florida Conference
Evangelist Ron Halvorsen Sr., age 77, went to sleep in Jesus on Friday, May 15 at a hospital in the Orlando, Fla. area. He had been battling multiple myeloma since his diagnosis last fall.
Halvorsen was born in Brooklyn, New York to parents William and Adele Halversen. Involved for much of his early life in the gang scene there, neighborhood friend Jim Londis invited him to a Bible study and shared with him the love of Jesus. At 17 years of age, Halvorsen gave his heart to Jesus and was baptized.
While receiving his education at Atlantic Union College he met and married Carrol LaMountain. Upon completion of his seminary education, Halvorsen served as a pastor in Connecticut, Tennessee, Maryland, and Southwestern Adventist University in Texas. He became a well-known evangelist for the Carolina conference, Faith for Today television ministry, and the General Conference, having as many as nine evangelistic series in one year.
Halvorsen went on to teach homiletics (the art of writing sermons) at several colleges, created a successful Lay Pastoral Assistant Training program used by several conferences, and was the ministerial director for the Mid-America Union. Before retiring, he served as church growth director for the Southern Union.
Described as a humble, approachable, and gracious man, Halvorsen desired to continue to share Jesus with people even after retirement. He authored two books, "From Gangs to God" (out of print) and "Prayer Warriors." Until the time of his passing, Halvorsen continued to conduct prayer seminars for the North American Division and serve as an associate speaker for It Is Written.
Halvorsen will best be remembered as a powerful, Christ-centered evangelist with a unique testimony. His prayer life was active and unceasing. He never forgot his roots or how God transformed his life as a young gang member all those years ago, and he shared his experiences with people of all ages. When asked, Halvorsen estimated he baptized more than 10,000 people over the years.
Family was extremely important to Halvorsen. He always made time for his wife and children throughout his ministry, taking them camping, fishing, or enjoying fun in the sun in Florida. He continued to make time as his family grew with grandchildren and great-grandchildren. Regardless of his schedule, holidays were always spent at home with the Halvorsen family. While traveling for his evangelistic series, Halvorsen was often accompanied by Carrol and their children Ron Jr., also a pastor and now president of the Ohio Conference of Seventh-day Adventists, and Diane, a chaplain for Adventist Care Centers, an entity of Adventist Health System.
Ron Jr. believes the Apostle Paul's words from II Timothy 4:7 best describes his father's life: "I have fought the good fight, I have finished the race, I have kept the faith."
Halvorsen is survived by his wife of 57 years Carrol LaMountain Halvorsen; son Ron (Buffy Vercio) Halvorsen Jr. of Mount Vernon, Ohio; daughter Diane Halvorsen (Peter Tsichlis) of Apopka, Florida; grandson Ron (Josie Thamas) Halvorsen III of Glendale, California; William (Donielle Anavitarte) of Keene, Texas; granddaughters Kelsey Halvorsen (Ricky) Berkihiser of Inverness, Florida and Stephanie Halvorsen (Doug) Parrish of Sequim, Washington; great-grandson Noah Grey Halvorsen; great-granddaughter Katelynne Diane Halvorsen; brothers Bill (Ann) Halversen, Warren (Judy) Halversen, Richard (Mary) Halversen, and Elliot Halversen; sister Adele (Richard) Solimine; and nieces and nephews. He was preceded in death by his parents, William and Adele Halversen, sister-in-law Grace Halversen and beloved nephew, Jimmy Halversen.
A memorial service has been scheduled for June 13, 2015 at 4:00 PM at the Forest Lake Church: 515 Harley Lester Lane, Apopka, Florida, 32703-6129. The service will be livestreamed through the Forest Lake Church website http://www.forestlakechurch.org/livestream/.
Tributes may be emailed to hshoemaker@ohioadventist.org. Additional service details will be shared as they develop here or on our Facebook page.
In lieu of flowers, the family requests donations be sent to Ohio Evangelism, c/o the Ohio Conference, PO Box 1230, Mount Vernon, OH 43050 or click on "Donate Now" button to your left and once logged in select Ohio Evangelism.
*Photo courtesy the Florida Conference