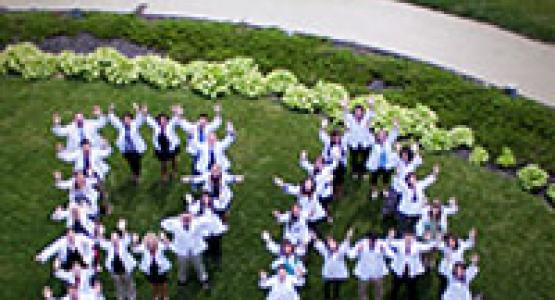 Mount Vernon Academy Alumni Weekend Serves as Bittersweet Homecoming
May 06, 2015 ∙ by Anonymous ∙ in Education, Ohio Conference, Uncategorized
Mount Vernon Academy (MVA) recently hosted the last alumni weekend to take place on their 122-year-old campus. Titled "122nd Year Homecoming," the school packed the three-day program with traditional activities, which were marked with boisterous greetings of lifelong friends and more than a few tears that this chapter of their collective history was coming to a close.
Story by Heidi Shoemaker
The weekend was the largest alumni gathering in recent history with an estimated 1,400 attendees on Sabbath. Many described the reunion as bittersweet, though the spirit was positive throughout the weekend. During the worship service, the Alumni Association distributed special awards, including one for teachers Bruce and Shari Bellchambers for 30 years of dedicated service to the students of MVA.
"The Bellchambers didn't think of teaching at MVA as just a job. They set a standard. They were MVA," says James Fortner ('66), a member of the Columbus Eastwood church in Westerville and an Ohio Conference Executive Committee member.
Returning students as well as former and retired faculty and staff gave tributes to deceased classmates, many of whom went on to be pastors, teachers and denominational leaders. More than 7,000 students have attended and/or graduated from MVA during the past 122 years, and many have impacted the world to a great extent through various occupations and/or community involvement.
During the benediction, Brenda Colegrove Fortner ('65), a member of the Columbus Eastwood church, said, "Many of us may never see each other again after today, but we will see each other in heaven."
During her vespers sermon, senior Alyssa Thompson reminds attendees that "God is always with us."
Senior Alyssa Thompson summarized the emotion of the weekend during her direct vespers message. She encouraged everyone present by saying, "God is always with us… What we're facing here on Earth is nothing compared to the eternity we're facing with Jesus."
Ron Halvorsen Jr., conference president, and Lyle Litzenberger, former Ohio Conference interim treasurer, addressed the alumni during the standing-room-only business meeting Saturday night. They shared the details of MVA's journey to this point and answered questions collected by Dayne Thomas, alumni president. The school made history when, at the conclusion of the meeting, they voted students from all grades into the alumni association.
While the immediate future may be uncertain, MVA students, faculty, staff and alumni say they are undaunted. As they were reminded in the program, their legacy will continue. "May we always keep the love of Christ in our hearts, be of service to our world, and be engaged in our community of faith. MVA lives as long as we live and breathe and serve!"
Feature photo: Longtime MVA educators Shari and Bruce Bellchambers receive recognition for more than 30 years of service to the academy.