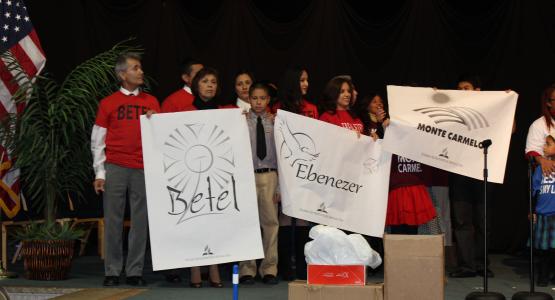 Spanish Caravan of Hope Concludes, Produces 344 Baptisms
January 14, 2015 ∙ by Anonymous ∙ in New Jersey Conference
Spanish Caravan of Hope Concludes, Produces 344 Baptisms

Story by New Jersey Conference Staff
The Spanish Caravan of Hope, an evangelistic initiative to spread the gospel throughout New Jersey, ended this fall. Jorge Aguero, Personal Ministries director, and José Cortés, president, organized the events. The caravan included special programs across the state, starting in July. During the initial phase, which spanned to October, leaders baptized 169 people. During the November 1-15 phase, 185 people in central New Jersey gave their lives to Christ and were baptized.
Members from across the New Jersey Conference join a parade at the closing Spanish Caravan of Hope ceremony.
Leaders held the closing ceremony November 15 at the Tranquil Valley Retreat Center in Andover, ending the third phase. Various small groups from across the state participated in a small groups parade, and many attendees gave their lives to Jesus through baptism at the event. "We are thankful to all the pastors and lay members who worked on spreading the Gospel," says Aguero. "We praise God for the success of this evangelistic effort."
Omar and Nessy Grieve, directors of La Voz de la Esperanza, spoke at the closing event. Junior Kelly Marchena, an internationally known Seventh-day Adventist singer, performed at the closing event and at events during the initiative.
Cortés says he firmly believes that the Holy Spirit is working among the church to God's glory. He summarizes that 344 joined the Adventist Church as a result of the Spanish Caravan of Hope.
Jorge Aguero celebrates with baptismal candidates at the Bridgeton Spanish church in Bridgeton.