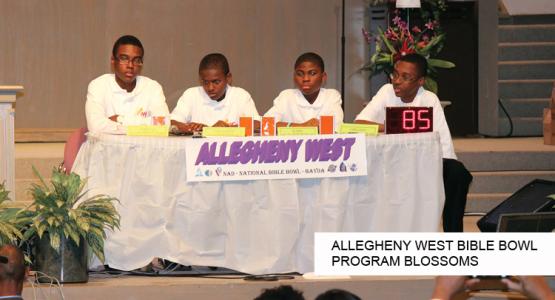 Allegheny West Bible Bowl Program Blossoms
December 10, 2014 ∙ by Anonymous ∙ in Allegheny West Conference
Allegheny West Bible Bowl Program Blossoms
Story by Bryant Taylor
The Allegheny West Conference was well represented at the annual National Black Adventist Youth Directors Association Bible Bowl Tournament held in Nashville, Tenn. This Bible study event features teams in five group levels, from ages 6 to senior citizens.
Under the leadership of Elethia Dean, conference Bible Bowl coordinator, the conference program has blossomed tremendously. For the first time in many years, champion teams represented the conference in every age category. Although it is only their first year, the conference's newest team (aged 6-9) from the Columbus Ephesus church in Columbus, Ohio, finished in third place.
"The greatest thing about the program, however, is that our members—young and old—gain not only a knowledge of the Word of God, but a love of it," says Dean. The conference is hosting this national event in Columbus next October.