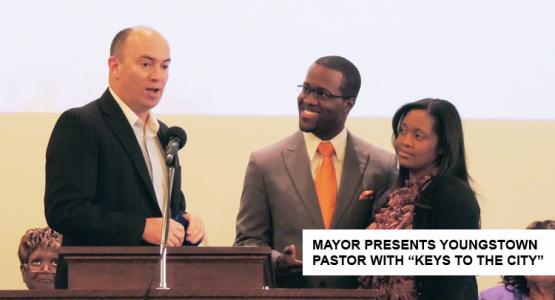 Mayor Presents Youngstown Pastor With "Key to the City"
December 05, 2014 ∙ by Anonymous ∙ in Allegheny West Conference
John A. McNally, the mayor of Youngstown, Ohio, recently visited the Temple Emmanuel church to present Pastor Bryant L. Smith with the "key to the city." The mayor conveyed that he was impressed with all improvements and progressiveness of the church and said, "As I drove down from Mill Creek Park and … saw a church down the road with boarded up windows, rubbish and brush out front that needs to be cleaned up, and when I look at Temple Emmanuel, I see the complete opposite. I look at this, a new and beautiful church, full of possibilities, very much like your pastor—full of energy, full of wisdom, encouraging everyone to get involved in the community."
NcNally referred to the recent work Pastor Smith and the Temple Emmanuel church did in the community, including expanding ministry online, cleaning up abandoned buildings, beautifying their neighborhood and getting people excited about service.
Pastor Smith in turn presented McNally with an engraved Bible and encouraged him to let God's Word be his guidance and wisdom. Before McNally left, the pastor and elders gathered around the mayor and asked God to bless him with wisdom, guidance and protection. McNally left a parting promise that Temple Emmanuel has his support in anything they want to do in the community.
Temple Emmanuel members Ruth Parker, Precious, Cha'Niya and Gloria Kelly relax after cleaning up an abandoned building.
One recent example of the church's work in the community happened when Pastor Smith and church members got busy, rolled up their sleeves and decided to take back their neighborhood. The community where the church is located has a few abandoned, boarded-up buildings, with right next to the church. So the church partnered with the city of Youngstown to clean it up. Church leaders connected with the R.U.B.Y (Revitalization and Urban Beatification of Youngstown) program. The city then dropped off a trailer loaded with equipment to clean and beautify the property. After hours of cleaning, police officers and other stopped by to take notice and commended the church for their work in the community.
Pictured: John A. McNally, mayor of Youngstown, Ohio, presents the "key to the city" to Pastor Bryant Smith and his wife, Amanda.