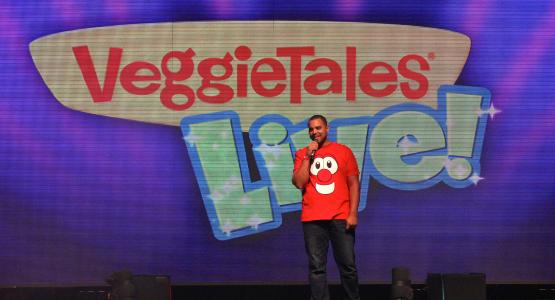 Central Church Brings VeggieTales to Columbus
November 20, 2014 ∙ by Anonymous ∙ in Allegheny West Conference
The Central church recently had Columbus, Ohio, buzzing, says Pastor T. Boston II. The church accomplished this by sponsoring the VeggieTales Live! tour at the Aladdin Shrine Center. More than 1,500 attended, some traveling as much as four hours, and left knowing more about the Central church.
Story by Allegheny West Conference Staff
Pastor John Boston makes an appeal at a special event for area kids.
"This initiative literally reached thousands of persons who had never heard of Seventh-day Adventists" says Lemuel Harrison, a member of the church. During the program, Pastor Boston also made an appeal for all to be prepared for the second return of Christ.
The church's Family Ministries team, run by Ruey and Marcia Bruce, planned the event. The Bruce's have a vision for the church to become the number- one place in the city for families and children to learn about the love and soon coming of Jesus.
The VeggieTales project is part of a long-range series to disciple and nurture new and non-believers into the love and truth of the Adventist Church. Each Sabbath morning, Central members pick up dozens of children for Kid Central for a hot breakfast and Bible study. Many of those children joined the festivities and were bused in and given free VIP passes to meet Bob the Tomato and Larry the Cucumber, popular characters from the VeggieTales series. Pastor Boston credits the success of the event to God, the Family Ministries team and the members of Central.