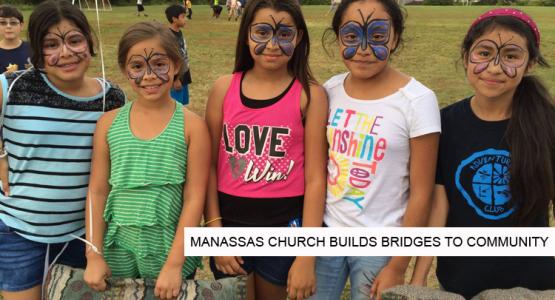 Manassas Church Builds Bridges to Community
October 08, 2014 ∙ by Anonymous ∙ in Potomac Conference
Manassas Church Builds Bridges to Community
Story by Tiffany Doss
This year building bridges with the community has been a primary focus for Manassas (Va.) church members. "We've been very intentional about reaching out to our local neighborhoods," says Randy Davis, pastor of the Potomac Conference congregation. "Our community has been very responsive to our efforts in friendship. Several of the community kids have even helped us hand out flyers to our events."
In early August, the church worked in conjunction with SERVE, a sector of Northern Virginia Family Services, to help students in need. Students requested supplies through the sector, giving them their name, school and grade. SERVE then purchased the supplies and put them in a backpack with the student's name on it. These backpacks were taken to the Manassas church, organized by members and distributed to students.
The church also invited the community to their annual Vacation Bible School, offered the use of their school's playground, recently purchased soccer goals for local kids to play on the church's ball field and, during the summer, held Family Movie Nights, in which they would feature a family-friendly movie and provide concessions.
"We provided free watermelon and our Pathfinders sold popcorn and other snacks. About 60 people from the neighborhood attended," says Pastor Davis. Since then the church has been alternating between movies for kids and those that an older audience might enjoy.
Evidence that the community is starting to respond to the church's efforts is seen in the tremendous turn out at their recent Neighborhood Fall Festival. More than 375 guests from the neighborhood came in response to the invitations. More than 125 church members attended to meet their neighbors and help out with the booths, crafts and concessions.
"Because of this event, several families toured the church school and one may register their child," reports Pastor Davis. "Twenty-nine people have requested additional information, including Bible studies, GED classes, ESL classes and other felt needs."
Phil Dawson, the church's elder for outreach, says, "Developing relationships is the first step in our ministry. Truly, God has blessed our efforts, and we pray He will continue to use each of us as we reach out to our neighbors for Him."