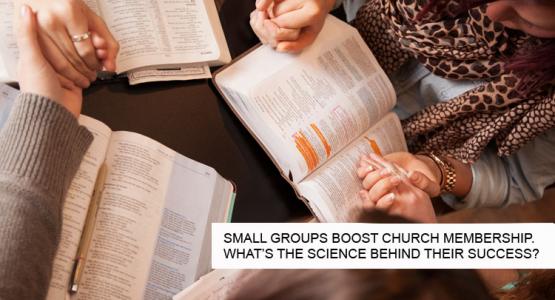 Small Groups Boost Church Membership. What's the Science Behind Their Success?
October 02, 2014 ∙ by Anonymous ∙ in Chesapeake Conference, Potomac Conference, This Month's Issue
Small Groups Boost Church Membership. What's the Science Behind Their Success?
by Elizabeth Anderson
Some call them growth groups. Others dub them lead groups, life groups or home churches. Names and evangelism approaches vary, but the end goals are the same—small groups, as they are most commonly known, multiply church membership.
José Esposito should know. His Hispanic Ministries Department at the Potomac Conference started developing a plan for small groups in 1997. Now there are 350 groups within his conference that meet each week. He credits these gatherings with boosting membership and notes that, through the years, "we have baptized more than 12,000 people and organized a total of 49 churches, 13 companies and nine mission groups." He says local church tithes and offerings also blossomed, despite the 2008 financial crisis.
José Cortés, New Jersey Conference president and author of As Jesus Did It, a book on the topic, dittos Potomac's success. Thanks to small group evangelism and fellowship groups, his conference's membership has blossomed during the past seven years—from 11,718 to 15,239, as of September 2014 (see the graph). Cortés prays their membership will top 16,000 by December 31.
Cortés says it's simple math. In one-on-one studies, church members might spend about an hour with one person in Bible study. When that person is baptized, "you are adding to the church," he says. On the other hand, "when you do small groups … you multiply." Cortés says this is because members are ministering to 12 people or more at once. "In a mathematical sense, you would see why small groups grow the church explosively," he notes.
One way they expand their reach is by engaging "the extended church," which includes inviting a member's family who isn't Seventh-day Adventist. "We invite these people to come to the small groups because they live in the same house. It's another way to bring people to the Bible study," says Cortés.
Why They Work
Most leaders agree that one reason these intentional, lay-led meetings work is because they deepen and expand the ministry of a congregation and build an extended community. They are "very good for the society we live in right now," says Cortés. He explains that people aren't "looking for a pastor or a priest, but they are looking for a group of friends. They love the sense of belonging."
Peter Casillas, Potomac's associate director for evangelism and church planting, adds that small groups provide a safe space for people to openly grapple through their uncertainties about God, biblical doctrines and other topics. "The small group … provides that comfort place where a person can just be," he says.
Casillas adds that involvement in small groups provides opportunity for everyone in the church to engage in outreach. He adds, "Members who become active in sharing the Jesus message, who become active in blessing and becoming a positive influence in the community, the result of that is a growing community."
Cortés agrees and notes that Jesus was the director of a small group. He trained His 12 disciples and sent them to preach the gospel. By following His example, "our groups accomplish both … evangelism and fellowship." He also notes that balance is integral to success. When groups focus on fellowship without evangelism, they won't work, he says. Conversely, when groups focus on evangelism without fellowship, they will also fail.
Casillas says small groups are definitely important to the health of a church, although he doesn't pit that approach against traditional church meetings. "I think each one has its purpose," he says. He also hopes people will remember that the church and small groups should work in tandem and not against each other. "I think that they should be connected," he suggests. Even if a church is healthy, "[it] needs the small groups, because in a church of 400, a person can get lost," he says.
One Size Doesn't Fit All
The types of small groups vary along with interests and needs of specific congregations. There are accountability groups, social groups, sports groups and Bible study groups, among others.
Potomac's Seabrook (Md.) church, chiefly started "growth groups" to help connect new members with other congregants. "We felt like this would help close that back door of new members coming in, not becoming established in the church because there are no relationships that have formed," explains Damein Johnson, senior pastor. "So now, as people are baptized or new members are coming in, we highly recommend they join. They're in that growth group for 10 weeks with other members, and relationships are formed. We believe that's what will root them in the church."
Steve Leddy, pastor of the Connections Community congregation, a new Chesapeake Conference church plant in Laurel, Md., says churches can also use one of the newest methods called the free market approach, where group leaders choose what type of small group to start. The church helps group leaders advertise their groups, but it's up to the leaders to grow their groups, Leddy says.
Within the groups, members use "nudge evangelism," a nurturing approach that doesn't aim for a definitive commitment to Christ within a three or four month meeting term. Leddy says their goal at Connections is to foster growth and warmth toward Christ. They then use a modified Engel Scale to help identify a person's inclination toward Christ. The scale ranges from -10, which signifies a person with an antagonistic view of Jesus, to +10, which signifies the opposite. Zero is the midpoint, "which is where people would come to Christ," he says.
The goal of nudge evangelists is to nurture group attendees to warm up to Christ, accept Christ or grow in Christ. "A lot of times we try and create evangelistic models where we're trying to get everyone to the same place, but not everyone is at the same place," Leddy explains. "So, we're trying to create a model that works with a much broader range of people." He says he has had success with this model at churches he's pastored around the United States.
Casillas says that, no matter which approach a church follows, they should remember the main goal: to bring sinners to Christ. Among Hispanic churches in his conference, evangelistic groups accomplish this through three actions: meet the needs of those attending the small group—"whether it's food, clothing, things like that"—share the Word through Bible studies and "provide a safe community, a safe place to be."
Cortés challenges congregations who haven't yet embraced small group evangelism. "I challenge everybody to try it. Do it well and you will see the results."
Read and share these articles from the October Visitor!