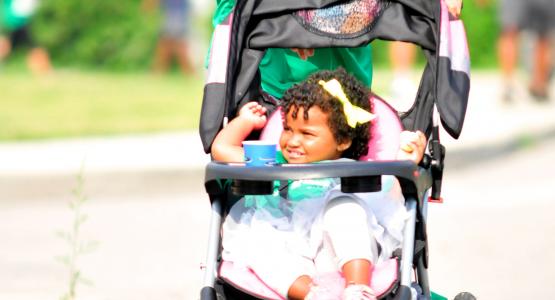 Glenville Church, Community Race for Kenace
August 26, 2014 ∙ by Anonymous ∙ in Allegheny West Conference
As a volunteer pushes Kenace Hunt through the race, she waves to the crowd.
Members of the Glenville church in Cleveland and the local community recently raised more than $18,000 to help pay medical costs for Kenace Hunt, a 2-year-old born with a rare medical condition.
At birth, Hunt was diagnosed with progressive familial intrahepatic cholestatis, type II, an inherited condition in which children are unable to drain bile from the liver even though the large bile ducts are open. This disorder meant Hunt was in imminent danger of liver failure and/or liver cancer.
Story by Allegheny West Conference staff
Despite the outlook, parents Shelley and Sean's faith never waivered. After failing to find a suitable liver transplant donor, they persisted and convinced the physicians and insurance com- pany to test them. Shelley matched her daughter and gave part of her liver to the girl. At first, Kenace's body threatened to reject her mom's liver lobe, but the prayers of the saints, family and community, and Shelley and Sean's unfailing faith prevailed, says their extended family.
As with any organ transplant, the cost of medications prevent rejection was astronomical and the Hunt family needed help. Shelley's father, Walter Tresville, a runner, jumped into action and organized the Kare for Kenace 5K Run/Walk. More than 150 people from the church, community and local businesses registered for the event. Some ran a 5k for the first time, but all echoed the sentiment that they wanted to do whatever they could for Kenace and her family.
To date, proceeds from the race and private donations total more than $18,000.
"We are very humbled by the
participation and donations we
received from the race participants," says Shelley. "We have really felt supported by our church family, biologi- cal family and friends alike. They all came out and showed out with great enthusiasm on race day and we are so grateful."
For more information about the event, visit cotaforkenaceh.com.