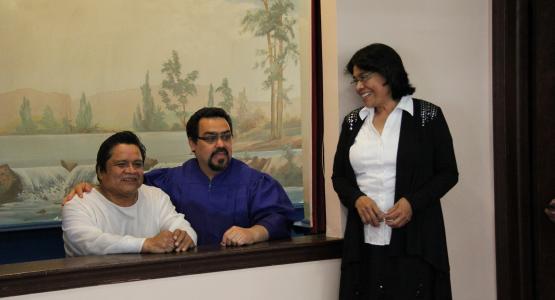 After 30 Years of Prayer, Man Joins Pennsylvania Church
June 05, 2014 ∙ by Anonymous ∙ in Pennsylvania Conference
After 30 Years of Prayer, Man Joins Pennsylvania Church 
Pastor Gabriel Montalvo (center) embraces a joyful Guillermo Ayala in the baptistery, while Ayala's wife, Mercedes, looks on.
 Story by Taashi Rowe
When Guillermo Ayala left El Salvador, his mother, a member of the Seventh-day Adventist Church, prayed for him to join the church. When he got married to Mercedes, she also prayed for him to give his heart to the Lord and join the church. But, for 30 years, Ayala wanted nothing to do with the church. It took losing his job for him to come to the Lord. While he was out of work for about two months, Ayala decided to read the Bible on his own. He asked his wife for a Bible study guide and then studied the Bible on his own for about six hours each day. When he finished studying, he attended a short spiritual emphasis series at Pennsylvania Conference's Grace Hispanic church in Chester. When Pastor Gabriel Montalvo made an appeal, he stood up.
A month later, Montalvo held a baptism at another church and Ayala attended. When Montalvo made an appeal, Ayala, stood up again.  Montalvo then promised that he would baptize Ayala at the end of April. Then Rubén Ramos, vice president for Multilingual Ministries for the Columbia Union, led a weeklong evangelism series at the Grace Hispanic church. Ayala attended every meeting. When Ramos made an appeal, Ayala stood up again. He was the only one baptized from that meeting. "It was like the series was held just for him," Montalvo shares. "The entire church was so happy because they had known about him all along and knew he wasn't an easy person to reach."
Ayala's story only gets better! His unemployment only lasted two months. As his baptism grew closer, God provided him with a better job with better pay and better hours. And, he won't have to work on the Sabbath. "Praise God for this lost sheep who finally came home!" Montalvo says joyfully.
Click here to see the Spanish version of this story.