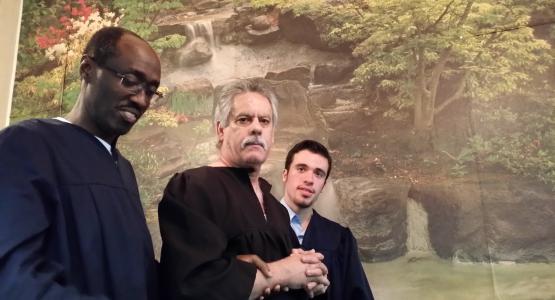 Two New Jersey Spanish Churches Welcome Eight New Members
May 07, 2014 ∙ by Anonymous ∙ in New Jersey Conference, Uncategorized
Story by Bianca Morales
Pastor Mario Thorp and Gabriel Morales get ready to baptize Juan at the end of a week of evangelism meetings.
"Just so, I tell you, there will be more joy in heaven over one sinner who repents than over ninety-nine righteous persons who need no repentance" (Luke 15:10).
A weeklong evangelism meeting held at the Perth Amboy Spanish and La Victoria Spanish churches was one of 97 held across the New Jersey Conference. Gabriel Morales, a theology student from the Antillian University in Puerto Rico, led the meetings, which were themed "Yo Soy" ("I Am"). At the end of the week, eight people were baptized.
Morales spoke about the "I am" statements that Jesus communicates in the gospel of John. The simple yet powerful message could be summed up as thus: Jesus calls those living in a dark and painful life where they are constantly reminded of their mistakes and their shortcomings to a life filled with light, joy and peace.
"The Great I Am not only promises us life, but He also promises to keep us there," Morales explained. "The greatest thing that I saw during this week was the way the young people aligned their efforts with God's in making this week of spiritual emphasis a reality not just for them but also the community of Perth Amboy."
During the last minutes of the baptism, Mario Thorp, pastor of both churches, made three appeals to the congregation. After the third appeal, a man named Juan stepped forward in tears, ready to give his life to Jesus.
Another of the baptized individuals is a young man named Ezequiel who visited church for a few Sabbaths to make her happy. But when he showed up for the final meeting on Sabbath, he moved to leave his past and give his future to Christ. As he stood up for the altar call, his mother embraced him as they both began to cry.
When asked about Ezequiel's decision, Morales says, "That was the beginning of Ezequiel's new life. He made his decision to leave a dark world behind and make Jesus his friend. His friends will pressure him to come back to the lifestyle he lived on the streets, but Ezequiel holds onto the promise that Jesus gives us of keeping us in His light."