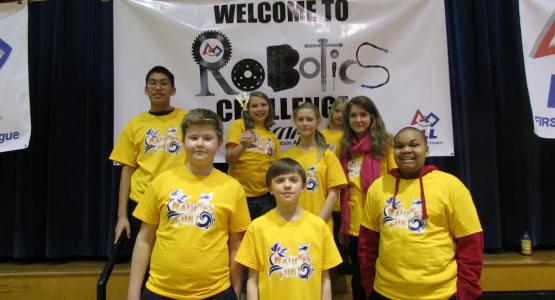 Blue Mountain Elementary Places Second in Robotics Challenge
April 10, 2014 ∙ by Anonymous ∙ in Education, Pennsylvania Conference, Uncategorized
Story by Caron Oswald
Fourteen teams from Maryland, New Jersey, Ohio and Pennsylvania met on Sunday, March 30 at Blue Mountain Academy (BMA) in Hamburg, Pa., for the regional Robotics Challenge. The Pennsylvania Conference-sponsored event drew participants from 11 Seventh-day Adventist schools and three community clubs.
Brandon Reese and Autumn Dekle ready their robot for action
.
Blue Mountain Seventh-day Adventist Elementary School (BME) won second place and the privilege of attending the national challenge in Sacramento, Calif., May 12.  First place went to Robothunder, a community club from East Windsor, N.J., and third place went to Mount Aetna Adventist School from  Hagerstown, Md.
"I am amazed," says Rachael Wardecke, principal and teacher of grades 5-8. "I think that this team shows what a dedicated volunteer can do, especially when one of the goals is to learn to work as a team. This is what they need to learn for life."
Paulo Laguna, computer science teacher at BMA, organized the conference robotics program with seven elementary school clubs during the 2012-13 school year. "When I first learned about the Adventist Robotic League (ARL), I was fascinated," he says. "Now I am passionate!" Laguna and BMA students visit elementary schools helping with the basic and a strategy for competition."
(The ARL was formed in 2002 when the North American Division partnered with the FIRST Lego League (FLL) organization for Sunday challenges.)
How It Works
The FLL was created for one purpose: To get kids interested in science and technology. FIRST is For Inspiration and
The Blue Mountain Elementary school team pose with their second-place trophy at the FIRST Lego League and Adventist Robotic League challenge. The seven member team won a place at the ARL national challenge.
Recognition of Science and Technology. Currently, there are 20,000 clubs in 70 countries. Lego develops and sells the robot. Sponsors are international corporations.
This year, a real-world topic is assigned. "Nature's Fury" was the 2013-14 theme. Students study the topic, select and develop a response plan, then build and program a robot to implement the plan.
BME's club chose flooding and focused on Puerto Rico as their target area. An emergency kit and delivery system was developed, then a non-profit organization was formed to supply and manage the new agency.
Judging has four categories: Robot Design for innovation and navigational consistency; Project Presentation where teams their research; Core Values, via interviews and observations, of how the team functions. Enthusiasm, spirit, partnership, respect for their teammates and others, and gracious professionalism.
The Game is the last category. For two and one-half minutes, teams complete a set of response tasks on a playing field they built.
Mentors, teachers and volunteers guide their students. Deanna Dekle is the volunteer mentor for BME. "As a parent, I wanted to make a difference. This builds character. It's not just about robots but give and take as they learn to work together." A full-time nurse, Dekle cut her work hours so she could be involved. "I'm trusting in God to make up the difference." (She says He has.)
Fire Chief Bob Ward from Hazelton brought a team of 10 community students ages 8-14.  "When I learned about the program, I thought it was a great idea. In our area, there is only  sports." Unfamiliar with Adventists, he says, "I couldn't have had a better welcome. Our kids have a good time when they come."
"Mentors require no technical skills. The kids do all of the work," explains Laguna.
Kathya Gomez, a student from Harrisburg Seventh-day Adventist School in Harrisburg, says her experience was a "complicated, stressful, mission. We build it together and learn to program it together. Gracious Professionalism means we don't give up, or get discouraged. We just keep going."
For more information about ARL, visit adventistroboticleague.net.