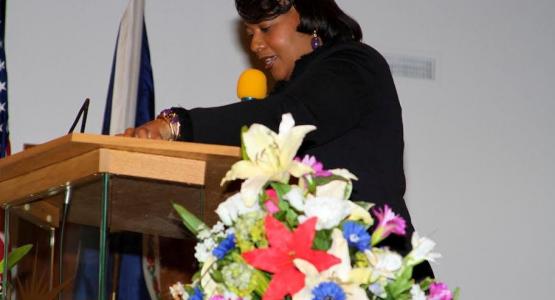 "The Dream Is Over," Announces MLK Jr.'s Daughter at Allegheny East Church
February 26, 2014 ∙ by Anonymous ∙ in Allegheny East Conference
Martin Luther King Jr.'s daughter challenges church members to "wake up and activate."
The Rev. Bernice King encourages members of the Newport News, Va., community to "activate."
Story by Ayesha Shakoor and Makeba Garrison; Photos by Comfort Bell
"The dream is over, it is time to awake. The dream ended and now it is time to activate." These words poured from the lips of the Rev. Bernice King, daughter of Martin Luther King, Jr., (MLK) the civil rights leader who originally delivered his now famous "I Have a Dream" speech in 1963 at the Lincoln Memorial in Washington, D.C.
Bernice King referenced her father's speech to a packed house at a recent celebration recognizing her father's contributions at Allegheny East Conference's Calvary church in Newport News, Va. Present at the celebration, themed "Dream Alive 2014, Remembering and Living the Dream," were state representatives and clergy from different denominations.
But King had even more to say. In order to activate, she suggests strategic movement in the body of Christ to fight against the atrocities of the failing education system, going outside of the church walls and being the example to others. She challenged the congregation to be like Nehemiah. She pointed out that Nehemiah did not leave his post to answer the ruckus but stood his ground and completed his mission.
"It's time for the church to stand up and be counted and act out of the power that we have been given," she said. "No longer can we be tied up and tangled up in our own affairs while hell is breaking out in our midst. It's time to stop playing church and start being the real church of Jesus Christ that is relevant to the times."
Her words struck a chord in the hearts of several Calvary members as the church sits on the corner of 17th and Chestnut where violence runs rampant. King shared statistics of dropouts and divorce rates, which spurred many to rethink how the church body can address these issues. Calvary's young men's mentor group, Calvary's Rite of Passage (CROP) gave an oratorical response to the congregation of how as young, black men they plan to make a difference in their community. Their words evoked a standing ovation for what they represent in the community and world at large.
Trevor Kinlock, Pastor of the Calvary church, addresses the congregation.
The celebration, which also included the Pathfinders and the Calvary Adventist School choir, "offered us another opportunity … to bring together members of our local community as we rallied around the issues of education, justice and opportunity," reflected Trevor Kinlock, the church's pastor, at the end of the program. "It is vitally important that the community sees the church as the mobilizing place for action and empowerment. We are one of the few remaining voices of moral authority in our cities and we must make our prophetic voices heard.    If our salt has no savor, we are good for nothing but to be trampled under the foot of men."