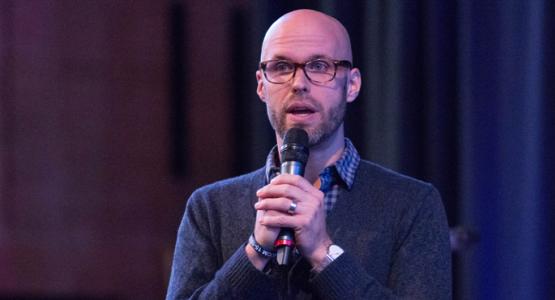 September 06, 2017 ∙ by vmbernard ∙ in Kettering College, Ohio Conference, This Month's Issue
Story by Anna Bartlett
Collective is a student-led Friday evening worship service and fellowship meal held in homes where students and faculty of Kettering College in Dayton, Ohio, can share their stories and worship together.
As Kettering is not a residential campus, many of the students live in a very segmented world, says Steve Carlson (pictured), campus chaplain. They drive in for class and then go home, often only interacting with others within their own program.
"They eat together and they connect with people they don't normally connect with. Since the students are the ones who are speaking, they are hearing the stories of fellow students, understanding what God is doing in their life, and… now view their fellow students in a different way. It's not just another student, but a student with a story," Carlson says.  
Carlson shares the story of a Hindu student who attended the Collective while at Kettering.
"He didn't believe what we believe, but he valued the relationship, he valued the time together and the conversation," Carlson said.  
"We do have people who are not Adventist who attend, and we intentionally structure [the service] in a way where we say this is who we are, this is what we value, but we value your voice being here and we want to be able to be inclusive and open to having them be a part of our community."