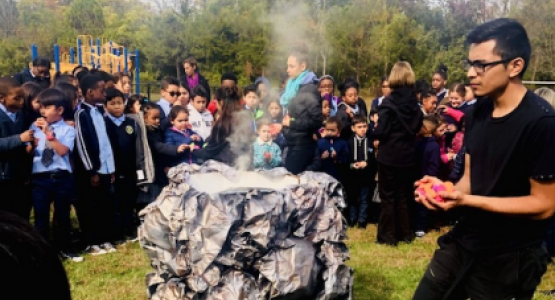 Students 'Claim the Victory' at Lake Nelson Adventist Academy
February 13, 2020 ∙ by rbacchus ∙ in New Jersey Conference, Education
Story by Ashley Boggess
This past fall, Week of Prayer was centered around the theme, "Claiming the Victory." Along with the Class of 2020, Webster Sterling, the New Jersey Conference Lake Nelson Adventist Academy's (LNAA) school chaplain, senior homeroom teacher and AP economics and religion teacher, delivered the daily messages.
In a musical play, the senior class conveyed the story of when Joshua led the Israelites to the Promised Land, acting out the obstacles and victories the Israelites experienced. After each short skit, Sterling gave a message to re-emphasize the scene.
At the beginning of the week, students made a "Promised Land" board and wrote their goals and hopes on it. During Week of Prayer, the seniors acted out when the Israelites marched around the wall of Jericho. Right before the seventh time, Sterling had all of the students write their "Jerichos"—their struggles and obstacles—on a piece of paper and stick it on the wall. The seniors then marched around the wall one last time and knocked it down.
Senior Martiann Forbes says Week of Prayer was special because "it was a reminder of the powerful God we serve," especially when the seniors literally knocked down the wall. "Sometimes I feel as if my problem is too big, and I forget to talk to Him. I was reminded that God made a wall fall just by having people walk around it, so what can He not do for me?"
This Week of Prayer served as a reminder to the students and staff that, just like the Israelites, who made it through many spiritual and physical battles, in the name of Jesus, they can claim the victory over any obstacle they face.
"God certainly used Pastor Sterling and the senior class to deliver a powerful message in an entertaining and creative way," says senior Samantha Rivera. "Once again the LNAA difference has left an imprint in the hearts of the students. They will forever remember to 'Claim the Victory' through Jesus Christ."