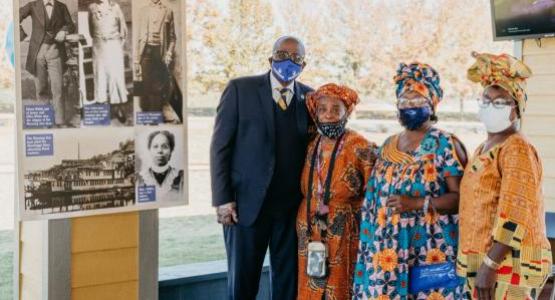 Oakwood Celebrates 124 Years of Service
November 18, 2020 ∙ by vmbernard ∙ in Education
Story by Debbe Millet, IMPR/Oakwood University
In recognition of 124 years of transforming lives, Oakwood University in Huntsville, Ala., celebrated Founders Day at 12:00 noon on Monday, November 16, 2020, at the Oakwood Farms Market Pavilion.
Oakwood was founded by the Seventh-day Adventist Church in 1896 to educate African-Americans of the South who had recently been freed from slavery. The property, 375-acres of a former slave plantation, was dotted with 65 towering oak trees, which gave way to the name "Oakwood." Originally, the school was called "Oakwood Industrial School," opening its doors on November 16, 1896, with 16 students. The former slave plantation was at one time the early residence of America's most famous slave, Dred Scott.
Oakwood University now serves 1,422 students and manages three industries on its 1,185 acre property:
·         Oakwood Farms
·         Edible Arrangements
·         Oakwood University Memorial Gardens Cemetery
The campus is considered one of the historical landmarks of the cosmopolitan city of Huntsville, with its population of approximately 202,0000 people in north central Alabama.
Oakwood University continues to view education as indispensable in preparation for wider service to God and to humanity. President Leslie Pollard said, "For 124 years, Oakwood has advanced the mission of Seventh-day Adventist education, creating competent Christian professionals for servant leadership. Since 1896, we have had the honor and privilege of serving the Huntsville and Madison County community, and I am immensely grateful for the 124th year celebration of Oakwood University."