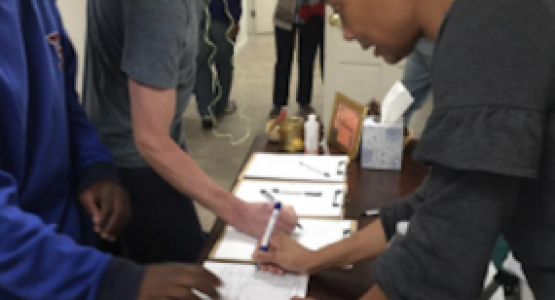 Living Word Ministers to Homeless Community
January 08, 2020 ∙ by vmbernard ∙ in Chesapeake Conference
Story by Andre Hastick
During the annual Winter Relief program, Chesapeake Conference's Living Word church partnered with the Arundel House of Hope, Inc., both located in Glen Burnie, Md., to provide shelter for 25 homeless men for a week. Kleyton Feitosa, pastor of Living Word, discovered this program after visiting Arundel House of Hope to inquire how his church could help the less fortunate in the community. To meet the needs of the homeless men, a group of 45 church volunteers provided them with bedding, food, clean laundry, showers, social activities and counseling.
Feitosa says, "Ministry is about being the hands and feet of Jesus. His compelling mission to the 'least of these' has moved the Living Word church to embrace this and other community projects as part of our commitment to God, community and mission."
To share his appreciation, one of the men wrote a one-page thank-you letter to all the volunteers, expressing his gratitude for Living Word's kindness and love toward him. Additionally, one guest expressed interest in attending worship and requested a ride to church the following week.
"Caring about our fellow travelers' spiritual, physical and emotional well-being on this journey called life is our mission," says Judy Kerr, church member and leader of the partnership initiative. "By the grace of God, we will continue our march of service that leads to higher ground."