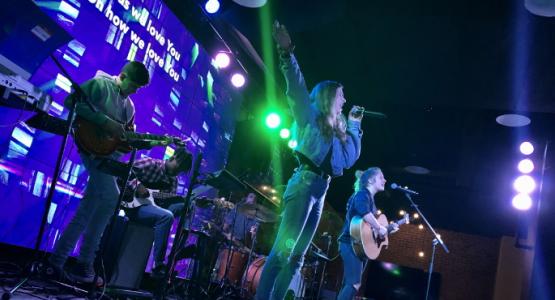 High School Students in Ohio Get ReCharged
March 11, 2020 ∙ by Web Administrator ∙ in Ohio Conference, Education
Story by Heidi Shoemaker
What is ReCharge, and why did 85 high school students, along with their chaperones, commute to the Kettering (Ohio) church in January?
"ReCharge is a day set in the middle of school year, just for high school-aged students," shares Edward Marton, Ohio Conference youth director. "Sometimes it's in the middle that we need the presence of Christ, and sometimes it's in the middle that we get discouraged," he says.
Several local church youth pastors helped Marton organize the event: Jeremy Wong from the Worthington church, Joel Grave (Centerville), Jason Calvert (Kettering) and Kojo Twumasi (Clifton). Wong addressed the struggles on identity and acceptance in today's Church during the morning worship service. In the afternoon, the youth pastors led two breakout sessions. The first dealt with spiritual questions about God and suffering such as, "I'm going through anxieties and pain, and I have friends that are hurting … where is God?" The second dealt with relationship and dating issues such as, "How far is too far?" "When should I start dating?"
The program concluded with a live 45-minute Q&A session where teens asked questions anonymously. "You can post a question, and it's OK," said Marton. "We're here to talk to you, and we won't judge you." Pastors were open and honest in their responses. Youth dealing with addictions or serious crises were encouraged to seek professional help.