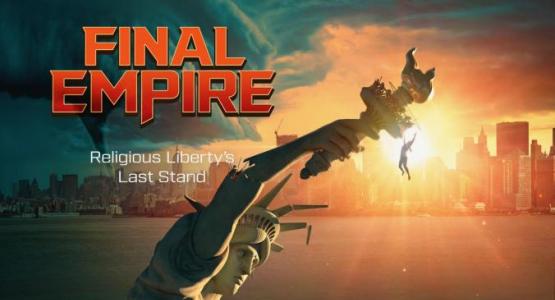 Final Empire Series Kicks Off Around Columbia Union
January 23, 2020 ∙ by vmbernard ∙ in Columbia Union News
Final Empire Series Kicks Off
Story by Ron Mills
In this election year, as millions of Americans consider the future of the United States, some are taking a step back to consider the nation's origins. How did the idea of the United States germinate? What forces were at play at the beginning? What role did religion really have in the formation of the nation? And what can history teach us as we consider the decisions America faces today?
Debuting Jan. 23 at many churches in the Columbia Union Conference and at over 500 nationwide, Voice of Prophecy's (VOP) Final Empire will explore these questions in detail, comparing the prophecies of the Bible with the evidence of history. In addition, Final Empire will explore what Bible prophecy says about the challenges the United States faces today. 
This series, hosted by VOP Speaker/Director Shawn Boonstra, will compare history with the Bible to address questions such as:
• What was the real reason Columbus sailed west?
• What role did the fall of Constantinople have in the formation of the United States?
• Was the United States really founded as a Christian nation?
• What steps can Americans take today to preserve their religious liberties? 
Following each documentary presentation, a local moderator will lead a discussion on the session's topic. 
"We're going to talk about America, what it was supposed to be, and what's happening in the nation today," Boonstra says. "Ultimately, during Final Empire, we want to give people the opportunity to learn how to study Bible prophecy and find answers for themselves."
Topics will include: "Republic Rising," "Christianity Corrupted," "The Earth Opens Up," and "America's Last Stand."
Click here to find the location closest to you. The following Columbia Union Conference churches are participating:
Amicus
Athens
Atholton
Atlantic County
Baltimore White Marsh
Beaumont
Beavercreek
Bell Branch
Bridgeton
Bridgeton First
Browns Mills
Bucks County
Buena Vista
Centerville
Cherry Hill
Chillicothe
Collingwood Park
CrossPoint on the Campus of Meadow View Junior Academy
Damascus Grace Fellowship
Dover First
Elkins
Ellicott City Center
Farmville
First Bilingual
Grasonville
Grasonville
Hagerstown
Harrisburg First
Hillside
Hyattsville
Indiana
Indonesian Pioneer
Johnstown
Kenhorst Blvd
Lake Nelson
Lancaster
Laurelwood
Life In Christ Company
Lima
Living Hope
M.O.T
Milton
New Life Philadelphia
Newark
Overbrook Worship Center
Parkway South
Perth Amboy
Piqua Adventist
Providence
Reaching Hearts
Reading Hampden Heights
Robbinsville Community
Sandusky
South Boston
South Carroll
Spencerville
Staunton
Summersville
Sussex Central
Swedesboro
Tappahannock
Toms River
Valley View
Waldorf
Wayne
Waynesboro
West Wilmington
Western Branch
Williamstown
Willow Brook
Winchester
Woodbury
Wytheville