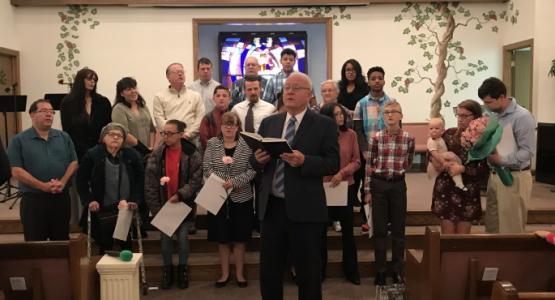 Disciple Ohio Helps Launch Lorain Church Plant
January 15, 2020 ∙ by Web Administrator ∙ in Ohio Conference
Story by Heidi Shoemaker
October 19, 2019, marked the beginning of a very special day in the life of Elyria church members' efforts in the Cleveland area. It was the first Sabbath worship service for the Lorain church plant meeting, where 31 people enjoyed Sabbath fellowship.
The Lorain church plant, a part of the vision for Disciple Ohio, is a result of the dedicated members of the Elyria church, pastored by Marius Marton and assisted by Disciple Ohio pastor Randy Barber.
Building on successful prophecy conference meetings held in May 2019, Barber conducted another three-week evangelistic series which started at the end of September in Lorain. Renting the venue, Black River Landing, was a miracle in itself, as the exact three-week period was available, when the location is normally booked two to three years in advance.
Marton shared that some of those attending had challenging experiences with worship in the past, but that many of them felt this church plant allowed them to be themselves. Marton also emphasized the importance of small groups for growth—both spiritually and physically. He hopes to have 10 small groups cover several different areas of discipleship through the Thunder in the Holy Land DVDs, traditional Bible studies and life-changing studies led by young people.
Elyria member Marilyn Mostek expressed how excited she was to be a part of the Lorain church plant. She talked of the importance of being active in reaching out to new people, by sitting with them, exchanging phone numbers and just being available. "Sit with the new people," Mostek encourages, "because it is important they feel wanted and loved."
Members are excited about the potential of more evangelistic meetings at the beginning of 2020. Several baptisms have already taken place, with more planned for the future.
For more information about Disciple Ohio's goals and principles, visit ohioadventist.org/disciple-ohio or contact Disciple Ohio coordinator Michael Stough II at (740) 397-4665, ext. 105.