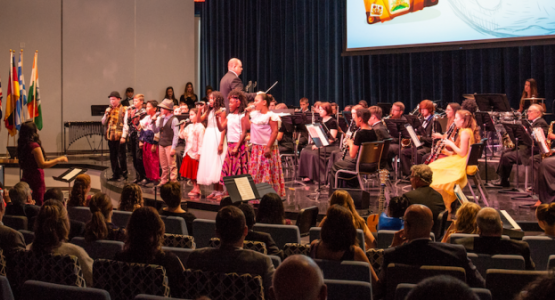 300 Attend Annual Spring Valley Academy Gala Auction, Donate $225K
February 13, 2020 ∙ by rbacchus ∙ in Ohio Conference
Story by Vicki Swetnam
Ohio Conference's Spring Valley Academy (SVA) recently held their annual gala auction on campus. More than 300 people attended the event and helped raise approximately $225,000 for the Worthy Student Fund and the upcoming classroom expansion project. This project will provide additional space for SVA's enrollment growth trend of the past few years.
The theme, "Passport to Adventure," provided an opportunity to display items from faculty, students and parents from around the world. The gym was transformed from the room where physical education is taught to the sparkly lights of a beautiful ballroom. The evening included a silent auction with items donated from local businesses, a live auction, dinner and a concert titled, "It's a Small World," featuring the SVA Music Department.
Each year a volunteer committee made up of parents, staff and alumni, and led by SVA Board Chair Frank Perez, plans the gala. "The hours these volunteers devote to this is such a gift to our school," says Development Director Angela Peach.
Principal Darren Wilkins comments, "Our community has been so generous with sponsorships and donations to our auction in the past, and this year was another example of how blessed we are to be part of such a supportive community."