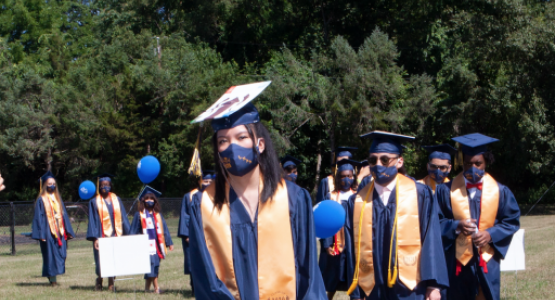 'The Valiant'—Lake Nelson Adventist Academy's Class of 2020—Finish Strong
September 03, 2020 ∙ by rbacchus ∙ in Coronavirus Pandemic, New Jersey Conference, Education
Story by Ashley Boggess / Photos by Marcos Seferlis and Kevin Ware
One year ago, the Class of 2020 had no idea what their senior year would look like. By March, it was clear this year would be very different. New Jersey Conference's Lake Nelson Adventist Academy (LNAA) in Piscataway joined schools around the country as they shut their doors and moved to remote learning platforms. The senior class, "The Valiant," hoped and prayed that plans for the closing events of their final year of high school would still continue. While they did not finish the school year on campus, the Lord blessed and provided a way to hold graduation exercises.
LNAA postponed graduation services until July to accommodate health guidelines. The consecration service was live-streamed via Zoom and YouTube.
This service is unique to LNAA. Each teacher takes the opportunity to bless a specific graduate. It displays the family-like atmosphere at LNAA. Sabbath's baccalaureate program was live-streamed via Lake Nelson church's streaming system. Elisa Maragoto, LNAA's principal, delivered the sermon, highlighting Moses and the process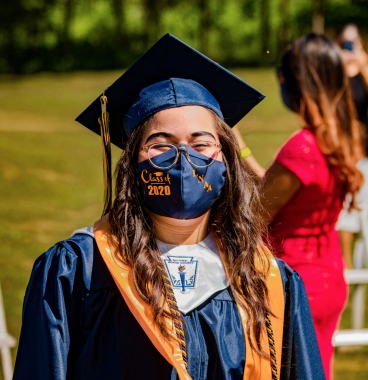 he went through in order to fulfill his God-given purpose.
The real miracle of graduation weekend was the commencement ceremony. Thanks to the generous help from the New Jersey Conference, the Tranquility Valley Retreat Center and many pastors and local members, as well as LNAA teachers, commencement services took place under a big white tent on LNAA's field. This allowed everyone to be together while still following social distancing guidelines and ensuring the safety of those present. Elaine Lopez, principal of the Tranquility Adventist School and former sponsor of the Class of 2020, provided the commencement address, encouraging the students, including graduate Karla Torres (pictured), in their walk with God and in preparation for the next steps in their lives.
Staff noted that "The Valiant" class was indeed valiant, embodying this year's school theme: "Be Strong and Courageous."
As the LNAA community looks forward to a new school year and the changes and uncertainties ahead, they are encouraged by the blessings God has provided: safety, health, success and provision. There are many unknowns, but what is known is that, as they cling to Christ, and as they take heed to Joshua's charge to "be strong and courageous," they will continue to see God's blessings in their lives and in their school, just as they witnessed His blessings for the seniors and graduation exercises, says Maragoto.