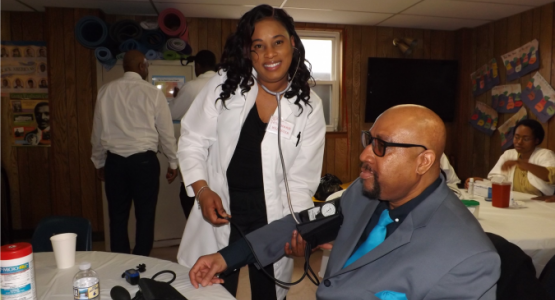 Willow Grove Opens Soup Kitchen, Holds Community Day
June 18, 2019 ∙ by vmbernard ∙ in Allegheny East Conference
Story by LaTasha Hewitt
Allegheny East Conference's Willow Grove (Pa.) church recently celebrated the grand opening of their soup kitchen at the Grace Center of Hope building, located across from the church. They held this event in conjunction with their Community Outreach Day. More than 40 community residents and seven police officers from the Abington Police Department (Pa.) attended.
Attendees enjoyed free giveaways such as clothes, slippers, toys and appliances and chose from several meal options provided by the soup kitchen.
Several church departments joined together to provide services and resources to the community. The Stewardship Department set up a booth to assist anyone who had questions on budgeting and money management. The medical team assessed vital signs, blood glucose levels and weight and body mass indexes.
Willow Grove's Chieftans Pathfinder Club got involved too. Their drum corps marched through the neighborhood distributing invitations to the grand opening. They also gave water and juice to passersby and assisted with clothing donations.
Members from the local fire and police departments handed out safety activity books and crayons, and police officers spoke with the children about calling 911 in case of an emergency.
"The community members greatly appreciated the effort and kindness shown to them. We hope this program will be used to bring people to Christ in the Willow Grove and surrounding communities," says Stacia Smith, community outreach leader.