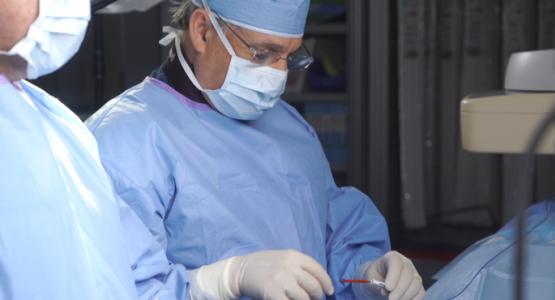 Washington Adventist Hospital First in Maryland to Offer Innovative Approach to Heart Valve Procedure
January 08, 2019 ∙ by vmbernard ∙ in Adventist HealthCare
Story by Betty Klinck
Adventist HealthCare Washington Adventist Hospital is the first hospital in Maryland to offer an alternative approach to transcatheter aortic valve replacement (TAVR), a less invasive procedure to replace a damaged heart valve without open-heart surgery. The new method, called transcaval TAVR, will expand the minimally invasive benefits of TAVR to more people with valve disease.
TAVR is a minimally invasive heart procedure in which the doctor inserts a tiny tube called a catheter into the femoral artery (in the leg) to treat aortic stenosis, a narrowing of the heart's aortic valve. However, in about 10 to 15 percent of patients, the physician must find an alternative approach, which involves making a small incision in the chest to repair the damaged aortic valve because the leg arteries are too damaged or too small to insert the catheter. This alternative approach can increase the risk for complications.
With the transcaval approach, the doctor places a small wire in the femoral vein in the leg and uses X-ray guidance to connect two neighboring blood vessels in the abdomen. This allows the doctor to access the aortic valve without having to open the chest, even if the leg arteries are too small or damaged.
"We are excited to expand this new innovative approach to many patients with critical aortic stenosis, who need TAVR but cannot get it because of small or diseased leg arteries, often seen in women," says Fayaz Shawl, MD, director of Interventional Cardiology, who performed this first procedure with the Washington Adventist Hospital heart care team. "This new approach will open the door for TAVR to many patients with more complex vascular problems."
About 1 in 8 people over the age of 75 have aortic stenosis, which can cause fatigue, shortness of breath, chest pain and, if left untreated, heart failure. For qualifying patients, TAVR can improve quality of life and prevent life-threatening heart problems with a quick, easy recovery and a smaller scar than with open-heart surgery.
The transcaval TAVR approach adds to Washington Adventist Hospital's comprehensive array of minimally invasive heart treatments including the MitraClip procedure, minimally invasive Maze procedure and minimally invasive heart valve surgery.