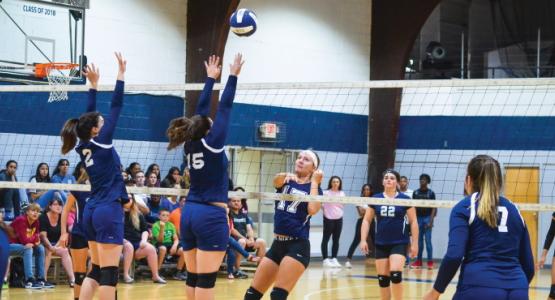 SVA Stars Volleyball: Winning for God's Glory
November 06, 2019 ∙ by Web Administrator ∙ in Potomac Conference, Education
Story by Becky Patrick
Shenandoah Valley Academy (SVA) math teacher and volleyball coach, Becky Patrick, is committed to girls' sports. Patrick recognizes that girls who participate in sports are more likely to have lower rates of teen pregnancy, drug and alcohol abuse and possess more self-confidence. She has witnessed sports help girls focus more on their athletics than their aesthetics, and how teamwork has taught them to support and encourage one another:
We lead each SVA girls' volleyball season by focusing on the team mission found in 1 Corinthians 10:31: "Whatever you do, do all to the glory of God" (NKJV). The girls are encouraged to glorify God in their actions and words with each other; the teams they play; the spectators and the referees; to do their best; and to give their all with the physical talents He has given them. We pray for safety, to play our best and that we will glorify Him, whether we win or lose. We pray the same for the opposing team.
After recently losing a game that I felt perhaps we should have won, I asked the Lord, "What else do I need to do to help them win?" My thoughts were focused on the fact that we lost the game. God reminded me, however, what it meant to truly win.
Before the game, the opposing coach shared that one of her starting players fell and had likely broken her wrist. I mentioned this to our team, making sure they encouraged the other team because they were concerned about their teammate. During a timeout, one of our girls said, "At the end of the game, we should go and pray with the other team for their injured teammate." Our team agreed.
So at the end of the game, the girls invited the opposing team to come to the middle of the court to pray. Holding hands intermingled with the other team, one of our girls prayed and thanked God for a fun, safe game. Then she prayed for the opposing team's injured player. She asked God to comfort and keep her from fear. After the prayer, their coach hugged me, looked at me with tears in her eyes and commented, "I don't know what to say."
That game will not show up in the stats as a win. However, it was a true win for God's glory and for our team and school because we demonstrated that SVA students are focused on sharing His love with others.