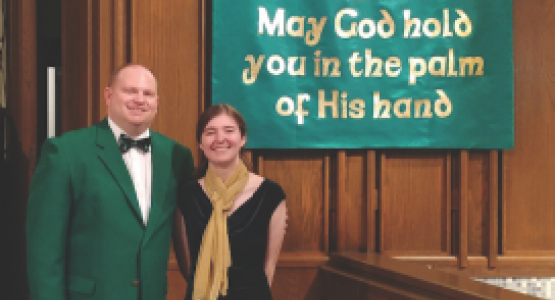 Spring Valley Academy Student Composes Music
May 16, 2019 ∙ by rbacchus ∙ in Ohio Conference, Education
Story by Vicki Swetnam
Each year Ohio Conference's Spring Valley Academy (SVA) high school band and praise orchestra presents a Celtic Concert at the Kettering (Ohio) church. This year Donald Huff, SVA's band director, made a surprise announcement to the audience:
"You are now in for a very special treat. The next piece is an original composition by our very own Madison Cobb. Madison is a senior at Spring Valley Academy and has always wanted to write a piece for the Celtic Concert since her freshman year and is excited that this year her dream has finally come. ... Tonight you are going to hear the world premiere of Amhran na Mara (Gaelic for Song of the Sea) by Madison Cobb. Please welcome Madison to conduct her original composition."
Cobb wrote, notated and arranged the piece all by herself. She shares, "I've always wanted to write a song for the orchestra. Two days into being a freshman, I asked Mr. Huff if I could, and he said 'Yes.' It took me a while before I was ready to do it. I've always loved Celtic music, and being able to write and finish a song in that genre is like a dream come true. I would definitely consider it a blessing that I'm in an environment where I am encouraged to create and share things that mean so much to me!"
Cobb's parents, Mary Kay and Michael, say that their daughter decided she wanted to play an instrument in eighth grade and worked hard at taking flute lessons the summer before her freshman year in order to join the high school band. Her hard work paid off as she rose to become the first chair in the flute section. In the fall, Cobb plans on majoring in interactive media and design at Miami University (Ohio).