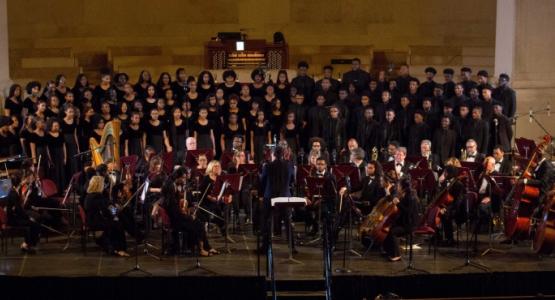 Pine Forge Academy Choir Records Live Concert
July 10, 2019 ∙ by Web Administrator ∙ in Allegheny East Conference, Education
Story by Jaymie Pottinger
One of the major milestones of the 2018–19 school year came out of the Music Department with the long-awaited PFA live recording. The last time the PFA choir had a live recording was in 2008, under the leadership of Jason Ferdinand. 
After the students completed the planning and fundraising, scores of alumni, parents and community members traveled to Girard College (Pa.) to witness a concert and live recording, under the leadership of Jarrett Roseborough. 
Vivian Washington, a proud graduate of the Class of 1979, shares, "I could not afford to miss this live recording. The choir produces such a rich sound, and Pine Forge Academy means a lot to me." 
Roseborough, PFA's choir director, says that the distinct sound and the journey that led up to the event was "evidence of God's power to be able to produce such a quality sound and to be able to have this live recording." 
With a highlight such as this, PFA looks forward with heightened anticipation and expectation to the future of the institution, fully cognizant of the fact that excellence is no accident but rather the result of intentional effort that lays hold on the hands of God for direction and power, Roseborough adds.