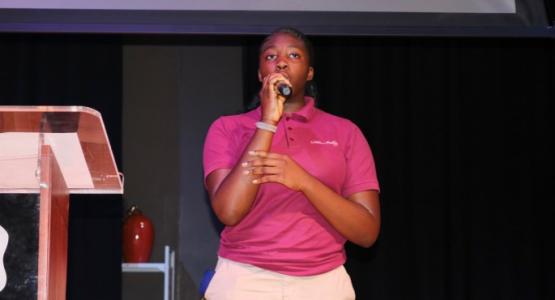 Mission Accomplished During Takoma Academy's Week of Prayer
July 17, 2019 ∙ by Web Administrator ∙ in Potomac Conference, Education
Story by Shari Loveday
This spring Potomac Conference's Takoma Academy family accepted a mission that some might view as impossible. The Week of Prayer's overall theme was, "What's God Got to Do With it?!" As each youth faced this question, Lola Moore Johnston, senior pastor of the Woodbridge (Va.) church, challenged the students to figure out how God fits into the personal lives of young people. She also shared that all of us should be "Living for 1 Like."
In an age where social media "likes" are on the rise and we follow friends by peering into their lives daily, Johnston asked TA students if they "would recognize God's acceptance of [His people] and live for His 'like' by tailoring their goals, pursuits, behaviors and attentions to pleasing only Him as a response to receiving His love," even if that meant a departure from popular culture. How free would you be if you didn't have to do anything to earn the only "like" you'll ever need?
Johnston admonished everyone with analogies and stories that made God's role in everyone's lives clear. "Don't jump alone," she stated, as she shared her "jump story" with the students. "If you had to jump out of a plane for the first time, would you do it without a trained jump instructor strapped to your back? Then why make decisions without God?" Johnston questioned.
Students participated in games and activities that enhanced the messages. They watched as volunteers tried to build a catapult without instructions. The students were left to ponder why they try to live without their Basic Instructions Before Leaving Earth (BIBLE). In addition, sophomore Tashyanna Simpson (pictured, below) sung special music to honor the memory of her grandmother.
From students to faculty, staff and administration, the entire campus was ignited with the challenge of living for just one "like."
So, what does God have to do with this? The Spiritual Life committee at TA believes a message has been sent: When no one else likes you or thinks you're talented, when no one else sees or respects you, when no one else stays no matter the circumstances, Jesus always will. You don't need to try to prove your worth. Jesus is the one "like" that will set you free from people-pleasing, dangerous pleasure-seeking and feeling lost and alone.
The metaphorical shackles left behind in TA's chapel are not the only indication that it was successful week. The students are now equipped to tell others exactly what God's got to do with it. Mission accomplished!