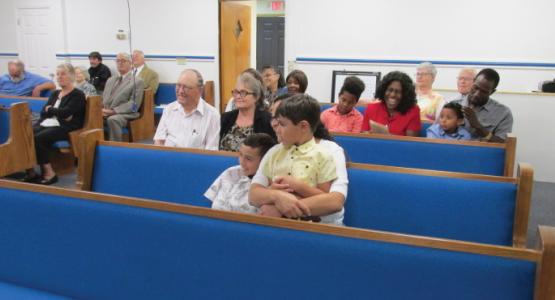 Marlinton Experiences Unique Story, Special Sabbath
December 03, 2019 ∙ by Web Administrator ∙ in Mountain View Conference
Story by Roger Stull
In October 2006, Robert "Doc" Michael, pastor of the Summersville (W.Va.) church, conducted a Revelation Seminar in Marlinton, W.Va., the town where he was born and raised. Soon conference leaders decided to establish a Branch Sabbath School, and the group held their first Sabbath services December 2006 at the St. John's Episcopal Church with 12 in attendance. By July 2007, the Marlinton Fellowship was officially recognized as the Marlinton Seventh-day Adventist Company.
In the fall of 2016, the group, led by then-retired Michael, began searching for a building to become their new church home. After looking at several properties in and near Marlinton, they found property on Beard Heights, well above the city and out of the floodplain, and also located on U.S. 219—the main route that goes through the small town. In December they placed a bid on the building, agreed upon a price, signed the contract and the Marlinton group moved into their new home in February.
A two-and-a-half-year renovation began early in 2017, transforming what was once a bar, then a restaurant (twice), later a doctor's office and eventually the Marlinton Company. It took time to remove walls, refinish ceilings, change doorways, carpet floors, install cabinets, repair bathrooms, install vinyl siding and paint.
A beautiful program took place on a recent Sabbath morning, complete with a visual presentation by Michael on the history of the Marlinton Company. Monica Zill, and her daughter, Alaina, from the Parkersburg (W.Va.) church, provided special music; Randy Murphy from the Grafton (W.Va.) church told the children's story; and Mike Hewitt, the conference president, delivered a message in which he challenged everyone to "remember that people are the church; [the church] is not just the building."
Several community members attended the program, including Pastor Shaun Clark of the Mountain View Assembly of God congregation and Philip Anderson, principal of the Marlinton Elementary School. The Marlinton members have been reaching out to this small public school for three years by purchasing and donating school supplies to them. A 96-year-old former member, but now a member of another Adventist church, drove herself to the service, promising to return soon before winter weather sets in.
"This Sabbath was a high day for me, as I looked back and saw all that God has done in Marlinton," says Michael, "and what He will continue to do."